The Arts Award qualification at The Northern School of Art welcomes learners aged between 14 and 16 years old to develop their creative and leadership skills through sessions, challenges and events. This award aims to support and encourage learners of all levels, abilities, backgrounds and cultures to participate in the arts. Through Arts Award, learners will achieve a national qualification that will build confidence through nurturing their individual interests, while also equipping them with life skills that will support their education and future employment.
Bronze – Level 1 Award in the Arts. Silver – Level 2 Award in the Arts. For learners aged 14 to 16 years old. Sessions are delivered every Saturday during term time. All students enrolling on the bronze will be automatically enrolled onto the silver so there is an expectation that they complete both in 1 year.
Attain a recognised qualification in Art on Saturdays between 10am – 1pm, discover your potential and ability through a range of creative and inspiring art and design activities. Meet new people with shared interests. Start your creative career with us. Successful students can progress on to full time courses at The Northern School of Art and develop careers within the creative industries. Successful completion of the Bronze means you can progress to the Silver. Bronze will be achieved between September and December and the Silver between January and June. Arts Award Level. Equivalence to KS4/5 examinations Bronze – Level 1 Award in the Arts. GCSE grades 3-1 (was D-G)** Silver – Level 2 Award in the Arts. GCSE grades 9-4 (was A*-C)**
Please find the terms and dates for this award! All classes run from 10am to 1pm every Saturday.
Term One Week 1: 18.09.21 Week 2: 25.09.21 Week 3: 2.10.21 Week 4: 9.10.21 Week 5: 16.10.21
Term Two Week 1: 6.11.21 Week 2: 13.11.21 Week 3: 20.11.21 Week 4: 27.11.21 Week 5: 4.12.21 Week 6: 11.12.21
Term Three Week 1: 8.01.22 Week 2: 15.01.22 Week 3: 22.01.22 Week 4: 29.01.22 Week 5: 5.02.22 Week 6: 12.02.22
Term Four Week 1: 5.03.22 Week 2: 12.03.22 Week: 3: 19.03.22 Week 4: 26.03.22 Week 5: 2.04.22
Term Five Week 1: 30.04.21 Week 2: 7.05.21 Week 3: 21.05.21 Week 4: 28.05.21 Week 5: 4.06.21
New Middlesbrough Campus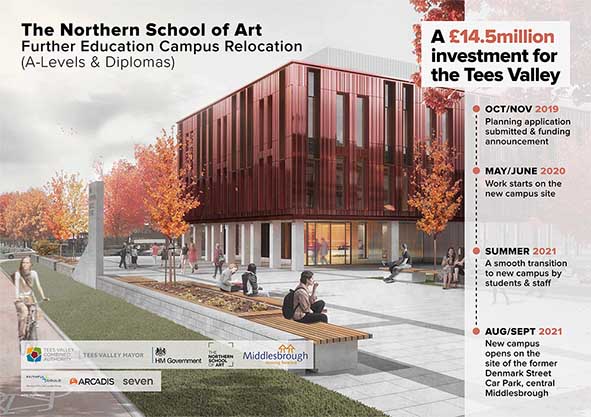 We are building a brand new Middlesbrough Campus, right in the centre of our town. Our new state of the art building will host all of our Further Education Courses, our Arts Award and Saturday Club!
Find out more now!
COURSE NEWS