COURSE OVERVIEW

Duration: 2 Years, Full-Time
Entry requirements: 5 GCSEs (9-4/A*-C) UCAS points up to 56 (depending on grade outcome) Campus: Middlesbrough

This course is for you if you are interested in a career in textile design. This gives you the opportunity to express yourself through functional or decorative manipulation of materials and fabrics.
COURSE DETAILS
You will learn from the work of practicing textile and fashion designers, exploring textile specialisms such as print, knit, weave, macramé, embroidery, embellishment, fabric manipulation and moulage. You can then develop these techniques into either textile installation or constructed textiles product outcome. Tutors are fully qualified practitioners and will help you to experiment with textile techniques. Each assignment theme is open to allow each individual student to develop a unique and personal response to each project with a textile outcome. You will work in a professional studio environment where you will discover how to produce both exciting and innovative design work. On successful completion of an A-Level programme of study, you will have the skills and qualifications needed to progress onto a wide range of courses at foundation level, degree level or to go directly into industry employment.
Our A-level students are encouraged to participate in a range of activities to support their understanding of creative arts and their future career and job roles. Students on the A-level pathways have also successfully taken part in national competitions, such as The Knitting & Stitching Show, created video content for the Department of Education and taught online to primary schools. We also think it is really important to explore the issues that impact on our students and recent teaching modules have explored knife crime, environmental issues and art, social media and its impact on mental health.

Our students progress to a wide range of different study and learning, including The University of York, Leeds Arts University, University Arts London, York St John University, Manchester Metropolitan University, as well as The Northern School of Art degree programmes. On the A-level pathway, students also have access to a range of workshops and skills talks provided by practising professionals from across the creative industries as well as higher education and degree-level lecturers - each session provides essential advice and insight into planning for a successful career as a creative professional.


The Northern School of Art's Middlesbrough campus has been given another 'Outstanding' rating by Ofsted. Following an intensive four-day inspection by six inspectors the School's further education provision has retained the top rating it has held since 2009.
Find out more!
ENTRY REQUIREMENTS
A MINIMUM OF FIVE GCSES AT A*-C / 9-4 INCLUDING MATHS AND ENGLISH AT MINIMUM C/4 GRADE PLUS A PORTFOLIO OF ARTWORK AND EVIDENCE OF WRITTEN WORK
MAXIMUM UCAS POINTS SCORE FOR FINAL GRADES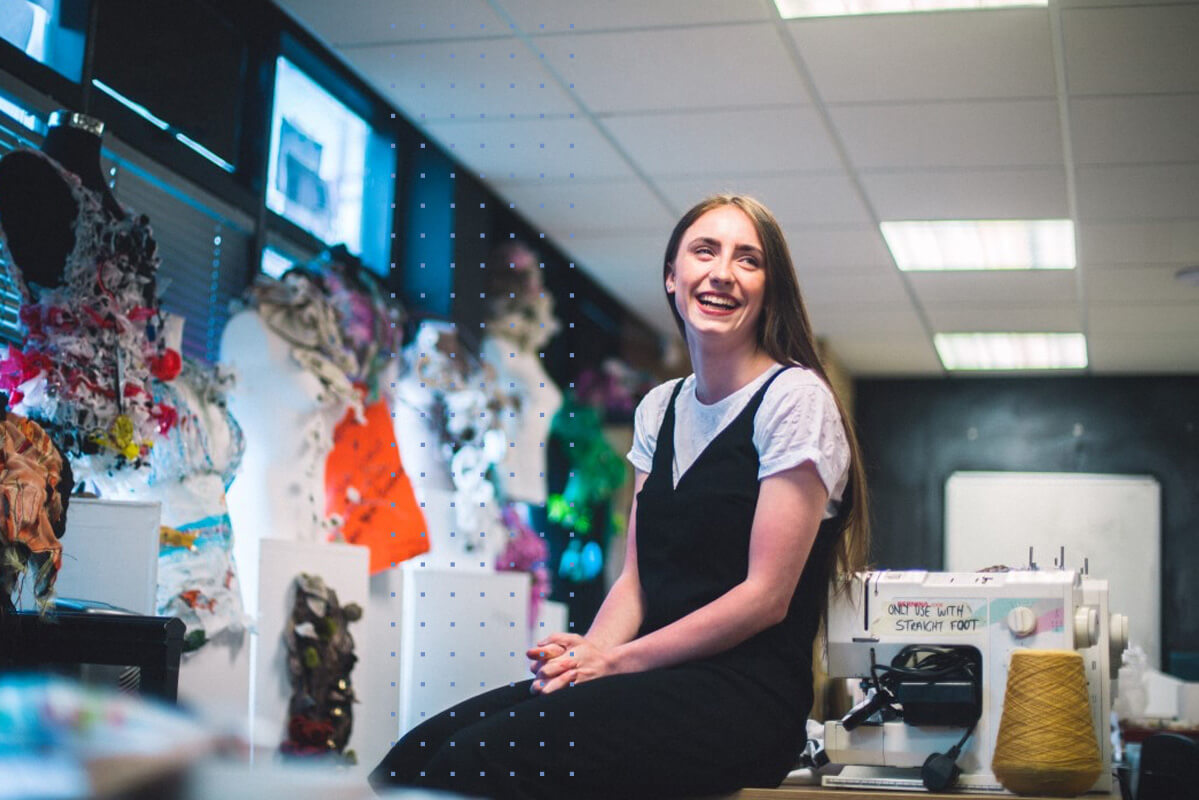 STUDENT PROFILE
OLIVIA WILSON What do you enjoy most about your course? I love the fact that I am able to explore lots of different media and techniques. What's your favourite thing about The Northern School of Art? My favourite thing is that everyone can express themselves freely and we are encouraged to be individual and different. What are your next steps? After college, I am going to the Higher Education campus to study Textiles and Surface Design. What's surprised you about your time here? I didn't know how to transform my work into prints.
COURSE NEWS