Thinking of applying? We still have places available for September and are following all safety guidelines, as well as ensuring you have safe networking, face to face support and events to join!
The BA (Hons) Costume Interpretation with Design degree is set in the thriving filming locations of the North East with great links to industry leaders in costume. This programme is a provider of costumiers for the entertainment industry and will equip you with the skills in costume construction and design you need. Alongside bespoke skills of millinery and tailoring; we are one of the few design degrees in the country that offer this. Our degree is unique in that we have a distinctive studio culture; no two days on this course are ever the same. We back this up with a wealth of industry links, exhibitions and opportunities
You will receive full training in the skills, techniques and craft you need to create superb costume for film, television, theatre and performance as well as beautiful evening and bridal wear, including: • costume & clothing design • millinery (hat-making) • tailoring • leatherwork - leather moulding/embossing • mask-making • corsetry By the end of your three years, you will be able to design, source materials and create full costumes. You will showcase your designs in a final degree show which will be seen by industry specialists. The programme is built on strong industrial relationships and you may have the opportunity to work on live briefs, work placements and collaborate with students from a range of our other programmes including
Acting
and
Film, TV and Theatre Production;
this will enable you to gain a real understanding of the costume industry.
Student Voice
Watch now to find out what it's like to be a costume student on our unique degree programme!
Student Work
Behind the scenes with Johan Kusters - Costume by student Marloes Peerenboom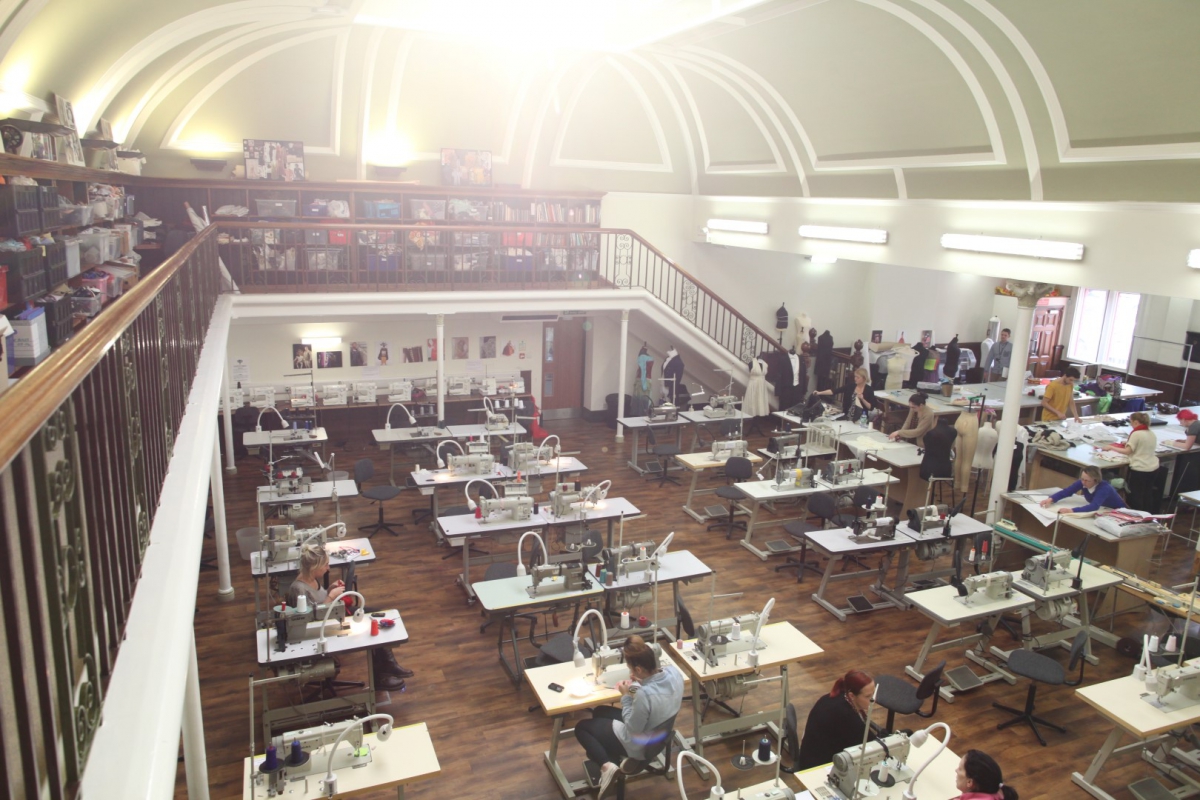 FACILITIES
Our equipment and facilities reflect many of the tools used in the real world, so you graduate ready for the world of employment. The learning environment we provide is unique, offering a sewing studio which is in a 1800s public library and individual work bays for all students.
STAFF
JANE HAVAKIN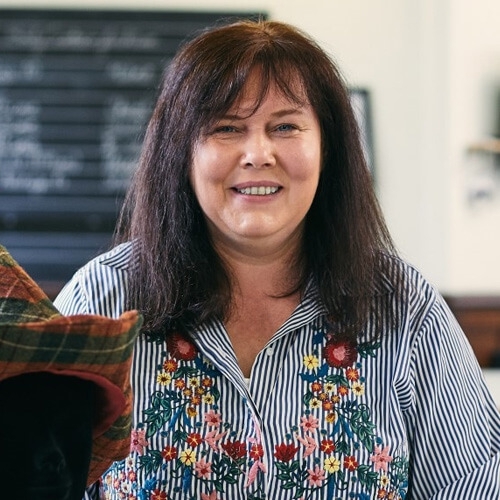 Senior Lecturer - BA (Hons) Costume Interpretation with Design Prior to her academic career, Jane was self-employed for 10 years supplying costumes to film, TV, a variety of clothing outlets worldwide and performance costumes to a variety of artists, including the Spice Girls. She also worked with various television wardrobe departments, including Channel 4 - designing and making outfits for a number of presenters for programmes including Changing Rooms, The Big Breakfast
 and ITV – supplying costumes for The Bill. Jane ran her own clothing label, supplying fashions to a variety of clothing outlets worldwide, including Galleries Lafayette Paris and Harrods as well as a number of concession shops in John Lewis and Top Shop's flagship store on Oxford Street.
IAN BOWDEN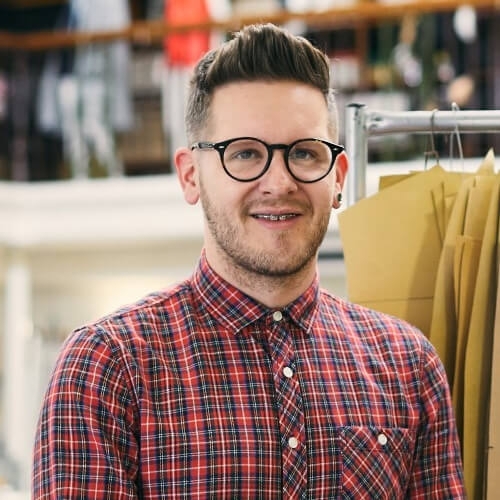 Module Leader Ian is Module Leader for Costume Design, Tailoring and Cut & Construction on the costume programme, working across all three year groups. Guiding the students through their studies, including a range of specialist traditional handcraft techniques incorporating bespoke Tailoring, garment construction and hand finishing techniques, also underpinning the importance of the character, when designing and constructing costumes. As well as incorporating live assignments within the industry, including Auckland Castle and Beamish open air museum, students have the opportunity to collaborate with Production Design for Stage and Screen, Acting and Film, on in-house projects as well as live assignments within sessions. Ian is active within the costume industry, having been involved with a large number of local productions and museums, including Beamish open air Museum (2015), Kynren – Eleven Arches (2017) and 'The Theatre upstairs' Billingham (2013/ 2016), as well as running several successful specialist night courses at Cleveland College of Art and Design, including corsetry and beginning to sew (2014/ 2015).
SALLY DONEGAN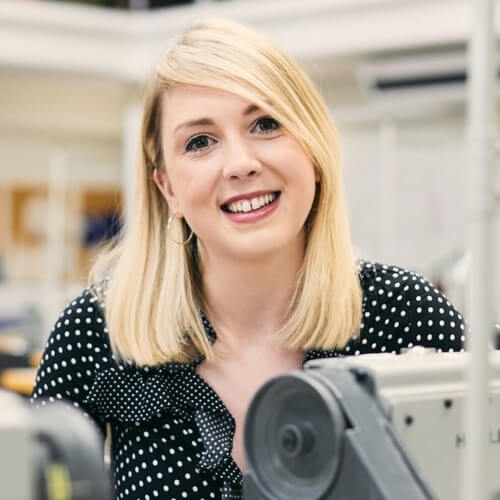 Lecturer Sally began working at Cleveland College of Art and Design in 2016 on the BA (Hons) Costume Interpretation with Design course, lecturing on pattern cutting, construction techniques, embellishment, millinery, tailoring and design, across all three year groups. Since graduating, Sally has gone on to work on shows at the National Theatre, Scottish Opera, West Yorkshire Playhouse, Opera North and Liverpool Institute of Performing Arts, gaining a high skill base. During her time at Cleveland College of Art and Design, Sally has continued to keep a strong link with the industry, teaching students key skills, and integrating live industry briefs into student modules - working with Creature Encounters, Kynren and Bishop Auckland Castle. Sally has a keen eye for historical clothing and accuracy within construction techniques. Now as a lecturer for BA (Hons) Costume Interpretation with Design, Sally aims to share her industry experience and knowledge with students.
FRANCES STOCKELL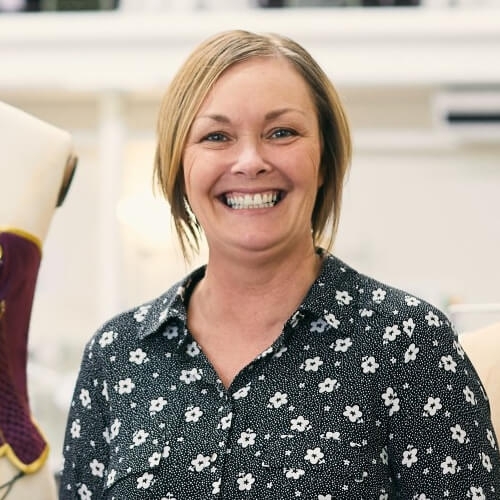 Technical Demonstrator Fran's professional career spans over 30 years prior to joining the costume department in 2017 and in that time, she has continued to develop her professional practice through activities, research and accumulating various qualifications including achieving her PGCE! She uses her experience of pattern drafting, fine sewing skills and garment construction to support the student's studies and the production of costumes for various live projects. Her role involves the delivery of demonstrations to all modules, across the three levels of BA (Hons) Costume Interpretation with Design, as well as ensuring a safe working environment whilst on campus. Fran's professional career since 1986 has included a variety of costume construction work, beginning with a 10 year tailoring background, being one of the only dressmakers in the north east of England who constructed mess dresses for the military, for the UK and around the world, along with jointly owning a successful costume business.
CAREER PATHS
This degree is for you if you wish to have a career in:
COSTUME DESIGN
COSTUME MAKING
PATTERN CUTTING
TEACHING & LECTURING
COSTUME EMBELLISHMENT & SURFACE DECORATION
HERITAGE INDUSTRY
PROM / BRIDAL DESIGN / MAKING
WARDROBE SUPERVISOR / ASSISTANT
COSTUME ILLUSTRATION
MILLINERY
TAILORING
NEWS