This exciting and innovative degree in BA (Hons) Textiles & Surface Design at the Northern School of Art offers students exceptional studios, workshops and resources. Students are surrounded by inspiration and experiment in a professional environment and creative space. Undergraduates on this textile design course will develop dynamic design and making skills to help support them gain employment or set up their own practices. With 96% student satisfaction in the National Student Survey, this degree has an exceptional reputation. Students on this course work with lecturers and technical demonstrators who continue to work successfully within different aspects of this industry.
This is a well-established textile degree with more than twenty years' experience, with knowledge, expertise and contacts; we have successfully placed students in internships and work placements with industry leaders. You will design for a range of textile and surface design product areas such as interiors, fashion, gift, stationary, table-top, fabrics and interior products. This textiles course also offers a range of skills transferable to a wide range of creative industries including teaching, community arts, buying, styling and visual merchandising. Using our specialist, well equipped studios and workshops, you will develop design and technical skills in screen-printing, dyeing, hand & machine embroidery, digital print design, laser-cutting, fabric manipulation and making skills whilst working on live briefs and collaborative projects.

Awards
New Designers Liberty Fabrics Studio Award 2021
Artsthread Global Design Graduate Awards 2021 (shortlisted)
Dannells #Memadeshade competition winner 2021

Student Voice
Hear more about our versatile course and gain insight into what it's like to be one of our textiles students.
WHAT YOU WILL STUDY
on BA (Hons) Textiles & Surface Design
In your first year (Level Four), you will explore:
• Drawing techniques for textile art and media applications • Embroidery, embellishment and stitching techniques • Industry structures/career options • Printed textile techniques • Screen production and workshop skills • The design process for surface design • Design theories and critical analysis • Making and construction skills for textile products
In your second year (Level Five), you will develop:
• Commercial links within trade shows and work experience opportunities • Digital design applications for surface design • Colour separations for surface design • Designing and making textile products • Development of concepts • Repeat structures • Professional skills through working with industry on linked assignments • Professional surface design collections for fashion, gift and interiors • Research, analysis and exploration skills
In your third year (Level Six), you will produce:
• A final project • A portfolio appropriate to your chosen career • Dissertation • Exhibition • Professional, personal marketing and promotional materials
STAFF
JAYNE HEMMINS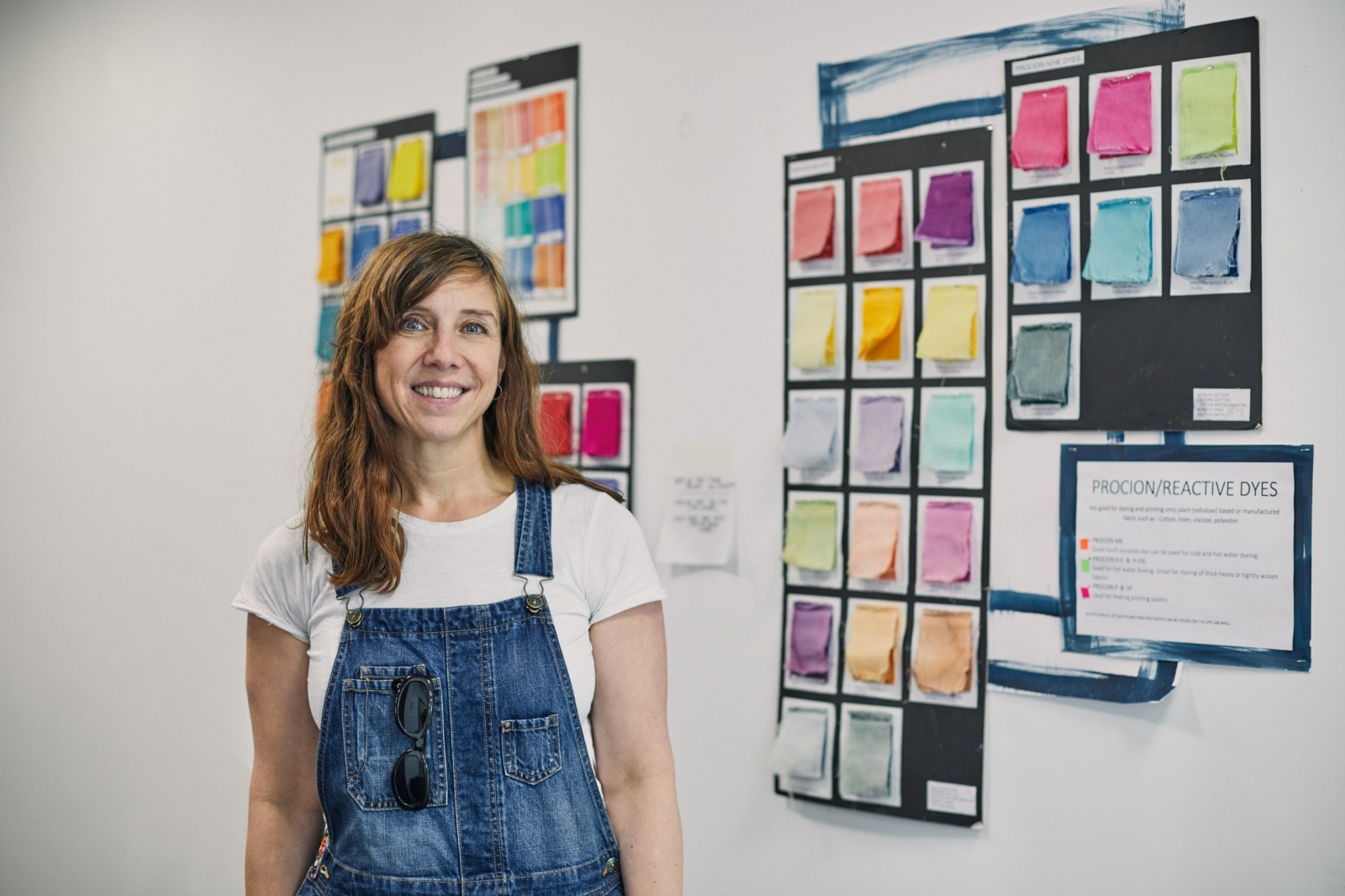 Senior Lecturer Jayne specialised in printed textiles at University. Her first commission was a children's interiors collection for Laura Ashley and from there she has gone on to sell work to companies across Europe, the USA, Japan and Australia across all areas of surface design for interiors, gift, table top and fashion. Jayne works across print and embroidery to produce designs in repeat as well as placement designs, murals and illustration. Jayne has excellent knowledge of a wide range of techniques and processes across printed textiles and hand and machine embroidery. Currently, screen printing, embroidery and printmaking are Jayne's main area of focus within her practice along with a mixed media approach to image generation. Jayne's Scholarly Activity traverses creative practice, pedagogy, anthropology and personal authenticity. Jayne aims to provoke thought and action as well as asking questions of the creative process and personal barriers, resists and rituals around it. She loves working with her students to develop their design, technical, creative thinking and critical analysis skills and helping them to achieve their potential and get the career of their dreams after graduation.
LYNDON LOWE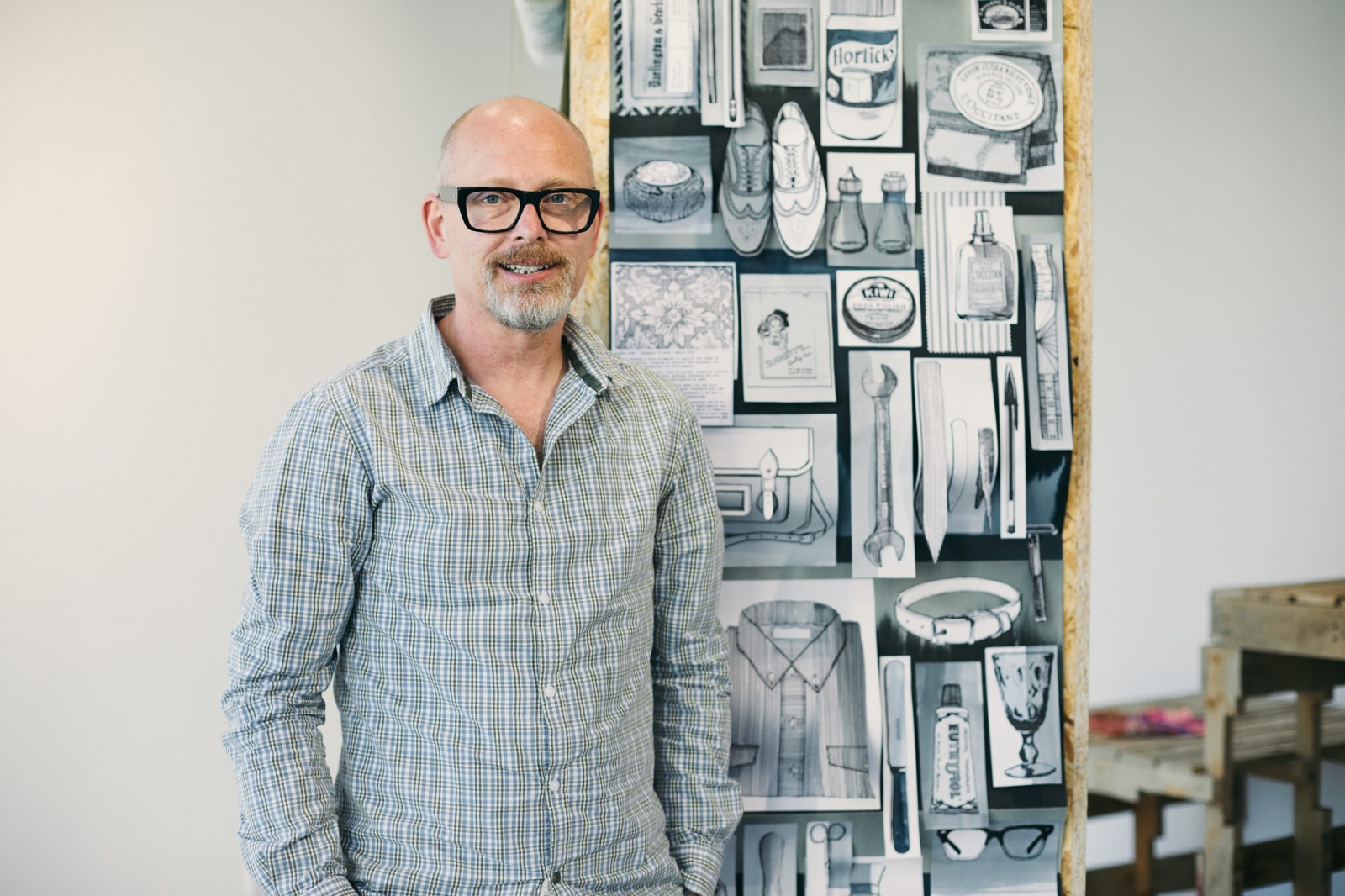 Lecturer Lyndon's research and practice interests are broad and cross a number of areas. At the moment, his current and evolving research area is primarily concerned with the emphasis on drawing, as this has always been regarded as a pre-requisite skill and highly significant within both industry and within art and design education. The research he has been recently developing explores the theme of drawing, its importance and how methods of delivery can be implemented within the curricula with innovation. He explores and questions what drawing is and its relevance in today's current climate, where political changes have affected arts education within schools. Traditional drawing has always been important for developing a range of skills, including observation, analysis, speculation development as well as the acquisition of technical skills. The research undertaken consists of a series of small 'drawing projects' exploring notions of drawing which adopt a range of visual methodologies. Lyndon intends to work as a 'devils visual advocate', to question and explore drawing with a focus on traditional and non-traditional techniques and processes.
LIANNE HUBBERT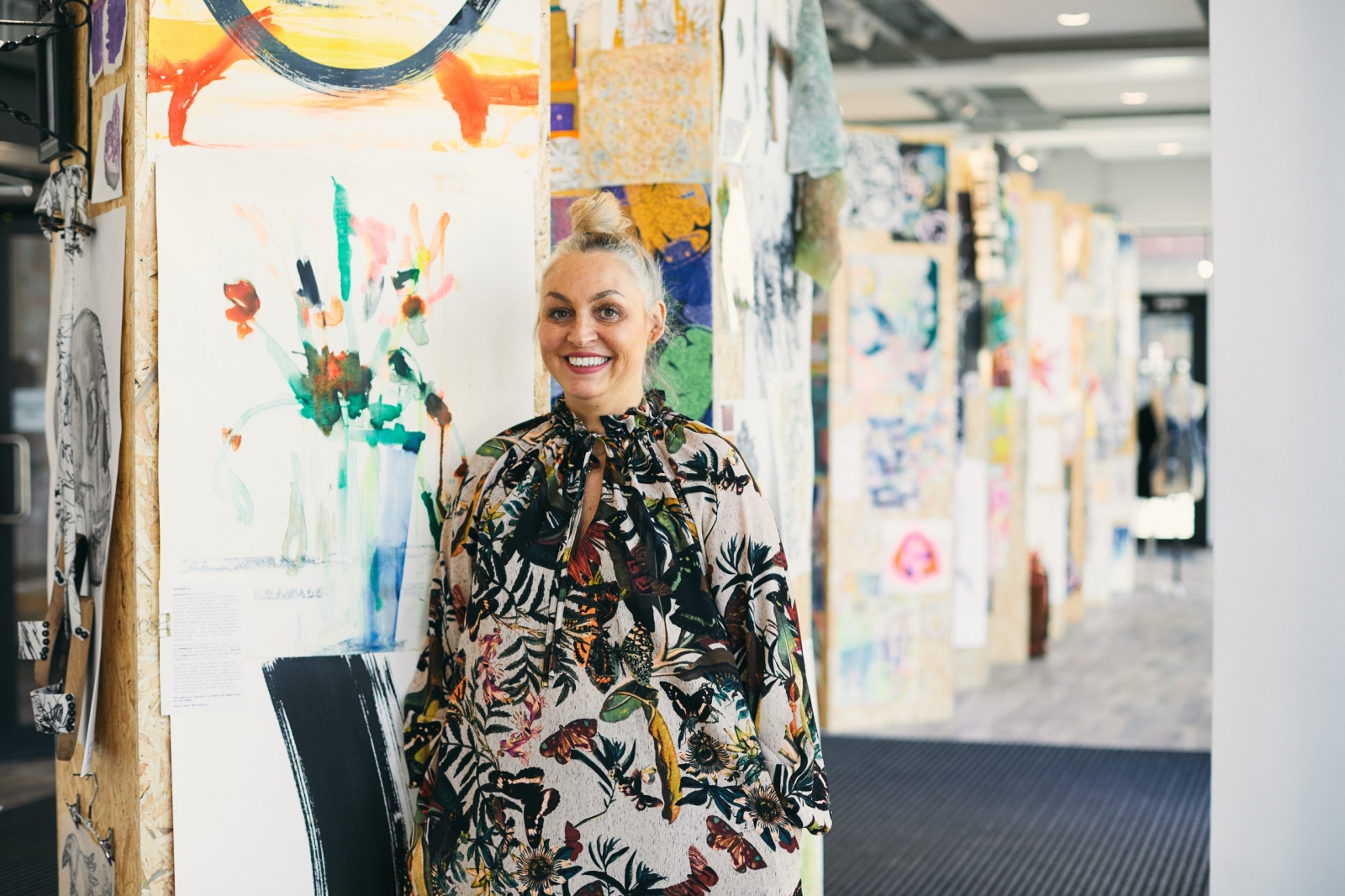 Lecturer Lianne started her career as a freelance designer for Libertys of London, working on their own brand product range of scarves and ties, and continues to work in the surface design industry selling work in the UK, Japan and USA. Latest work includes the American-based company Fitz and Floyd for print onto ceramics and is interested in working across practices. Drawing and print-room activities lie at the heart of her own practice and feeds into her academic endeavours. She encourages exploration in all aspects of textile design and encourages students to "think outside of the box". Commissions include Waterstones to commemorate "Scottish Writing at Waterstones".
CAREER PATHS
This degree is for you if you wish to have a career in:
HOMEWARE TEXTILES
GARMENT PRINT DESIGN
FREELANCE
GIFT MAKING
SURFACE DESIGN
TEACHING & LECTURING
TEXTILE DESIGN
SCREEN PRINTING
DIGITAL PRINTING
NEWS