COURSE OVERVIEW

Duration: 2 Years, Full-Time
Entry Requirements: 4 GCSEs (9-4/A*-C) UCAS Points Up to 168 (depending on grade outcome)
Campus: Middlesbrough

This Textiles & Surface Design course is designed for you if you have creative flair, talent and a passion or interest in all areas of exploratory textiles but are unsure of how to develop it further into a career in the wide range of creative textile & craft industries.

During your two years with us, you will receive an exciting broad experience and knowledge of 2D & 3D textile materials & processes in year 1, this then becomes individually and independently focused throughout year 2, and is designed to enhance and develop your chosen area of textiles and career specialism, within the textile design and art and craft industries.
COURSE DETAILS
The course offers you the opportunity to explore a wide range of career path- ways including textiles for:

• products
• interior accessories
• costumes
• fashion accessories & jewellery
• textiles art
• surface design & print for fashion, costume, gift wrap wallpaper & interior fabrics
• innovative surfaces
• print & illustration
You will have opportunities to use traditional & non- traditional textile media, such as paper, fabrics, metal, glass & ceramics. Develop a variety of drawing and printing techniques, digital and surface embellishment, to enhance design ideas for areas such as interior and fashion accessories, and handmade bespoke work. You will learn how to generate, develop and create contemporary ideas in response to challenging briefs and live assignments. You will gain invaluable knowledge and skills in how to become textile makers and/or surface designers through exploration, in specialist studios and workshops, experiencing and combining a wide range of mixed media textile techniques, materials and equipment used within the art and design industries. Students will have access to opportunities such as live briefs and competitions, including Knitting & Stitching Show, UAL Origins and social enterprise 'Barefoot Kitchen'. As well as experience live talks and workshops with industry specialists including designers, artists and photographers through out your time with us! Our students progress to a range of careers and study destinations, including studying degree level at the School, as well as Manchester Metropolitan University, Leeds Arts University and De Montfort University. Alumni Our students have taken the skills they have learnt with us and carved our successful and exiting careers including: • Rebecca Hayman, Interior Designer, Naru & Ross Architects • Pepe Lowe, Print Designer for fashion, Not Just a Label • Olivia Havlock, 'Olivia Rose The Label' • Adele Catchpole, Entrepreneur • Matthew Duffy, Fashion Designer, London College of Fashion • Cheryl Holmstrom, Wedding Dress Designer • Lucy Addison, Applied Artist • Jessica Langford, Jeweller • Hannah Johnson, Buyer, River Island • Rhiannon Vest, Visual Merchandiser • Bettie Hope, Entrepreneur, Slutmouth • Laura Coupland, Junior Designer, Sipsmith Gin • Chloe Lewis & Jen Lithgo, Jewellery Designer • Hayley Densley, Jewellery Designer • Laura Murray, Costume Designer, Hackney Empire • Catherine Dickinson, Exhibition Assistant, The Bowes Museum • Charlotte Victoria, Jewellery Designer • Helena Cooling, Set Designer, Darlington Hippodrome
ENTRY REQUIREMENTS
A MINIMUM OF FOUR GCSES AT C/4 OR ABOVE INCLUDING MATHS AND ENGLISH AT GRADE D/3, PLUS A PORTFOLIO OF WORK. (IF YOU HAVE MATHS/ENGLISH AT GRADE D/3 YOU WOULD BE REQUIRED TO WORK TOWARDS THESE QUALIFICATIONS ALONGSIDE YOUR COURSE)
MAXIMUM UCAS POINTS SCORE FOR FINAL GRADES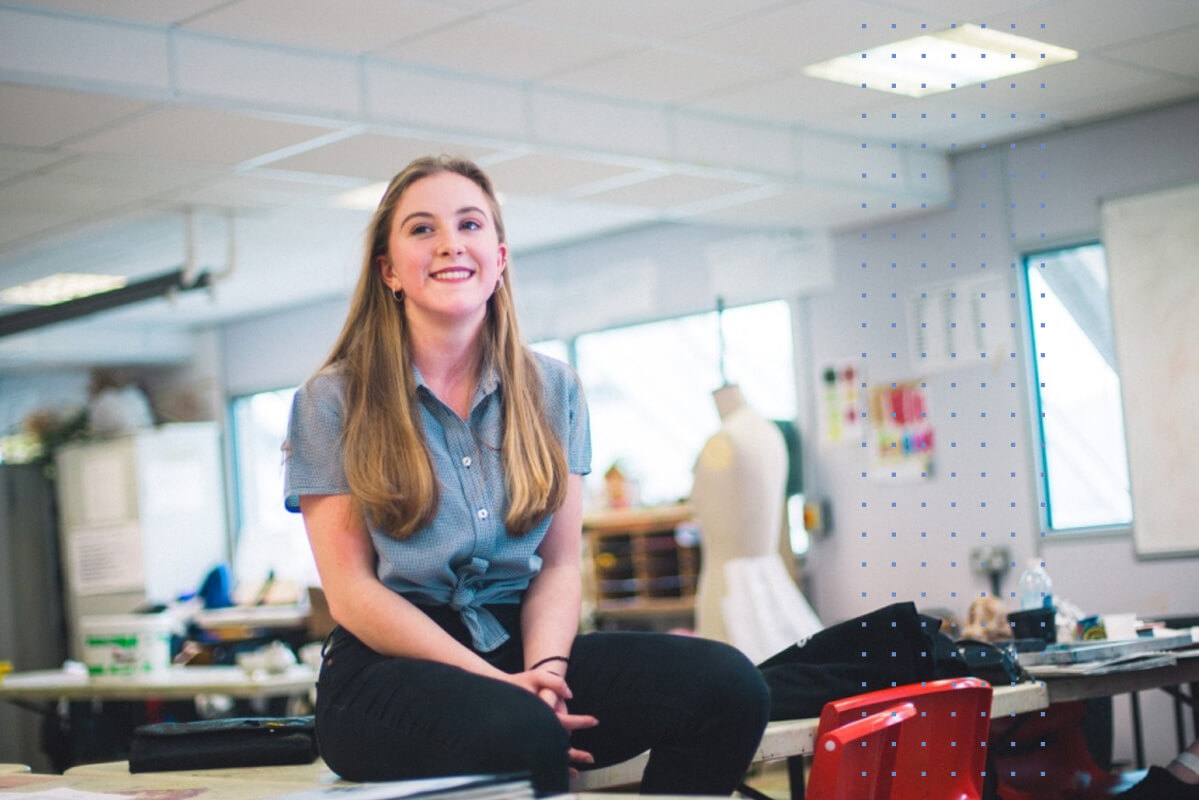 STUDENT PROFILE
TILLY JONES What do you enjoy most about your course? I love that you can experiment with lots of different media. What's your favourite thing about The Northern School of Art? The staff here are great and really supportive. What are your next steps? I want to go to the HE campus at Hartlepool to study BA (Hons) Costume Interpretation with Design. What's surprised you about your time here? I didn't know how much variety there would be. There's a big of range of things we can explore and go into!
COURSE NEWS