COURSE OVERVIEW
We pride ourselves on creating textiles for products at The Northern School of Art. This UAL Extended Diploma Textiles for Products & Accessories course has been designed for students with creative flair and talent, who have a passion and interest in all areas of exploratory textiles, but are unsure of how to develop it into a career in the range of creative textile and craft industries.
COURSE DETAILS
This course offers you the opportunity to explore a wide range of career pathways including: • Textiles for products. • Textiles for interior accessories. • Textiles for costumes. • Textiles for fashion accessories and jewellery. • Textile art. Within the UAL Extended Diploma Textiles for Products & Accessories course, you have opportunities to use traditional and nontraditional textile media, such as paper, fabrics, metal, glass and ceramics for areas such as theatrical props, interior and fashion accessories, and handmade bespoke work. You will learn how to generate, develop and create contemporary ideas in response to challenging briefs and live assignments, as well as gain invaluable knowledge and skills in how to become a textile maker through exploration in specialist studios and workshops. This course at The Northern School of Art allows you to experience and combine a wide range of mixed media textile techniques, materials and equipment used within the art and design industries. As part of your first year in this two-year course, you will receive an exciting experience that broadens your knowledge of 2D and 3D textile materials and processes. In year two, this becomes individually and independently focused throughout. Overall, the UAL Extended Diploma Textiles for Products & Accessories course is designed to enhance and develop your chosen area of textiles and career specialism.
ENTRY REQUIREMENTS
A MINIMUM OF FOUR GCSES AT C/4 OR ABOVE INCLUDING MATHS AND ENGLISH AT GRADE D/3, PLUS A PORTFOLIO OF WORK. (IF YOU HAVE MATHS/ENGLISH AT GRADE D/3 YOU WOULD BE REQUIRED TO WORK TOWARDS THESE QUALIFICATIONS ALONGSIDE YOUR COURSE)
MAXIMUM UCAS POINTS SCORE FOR FINAL GRADES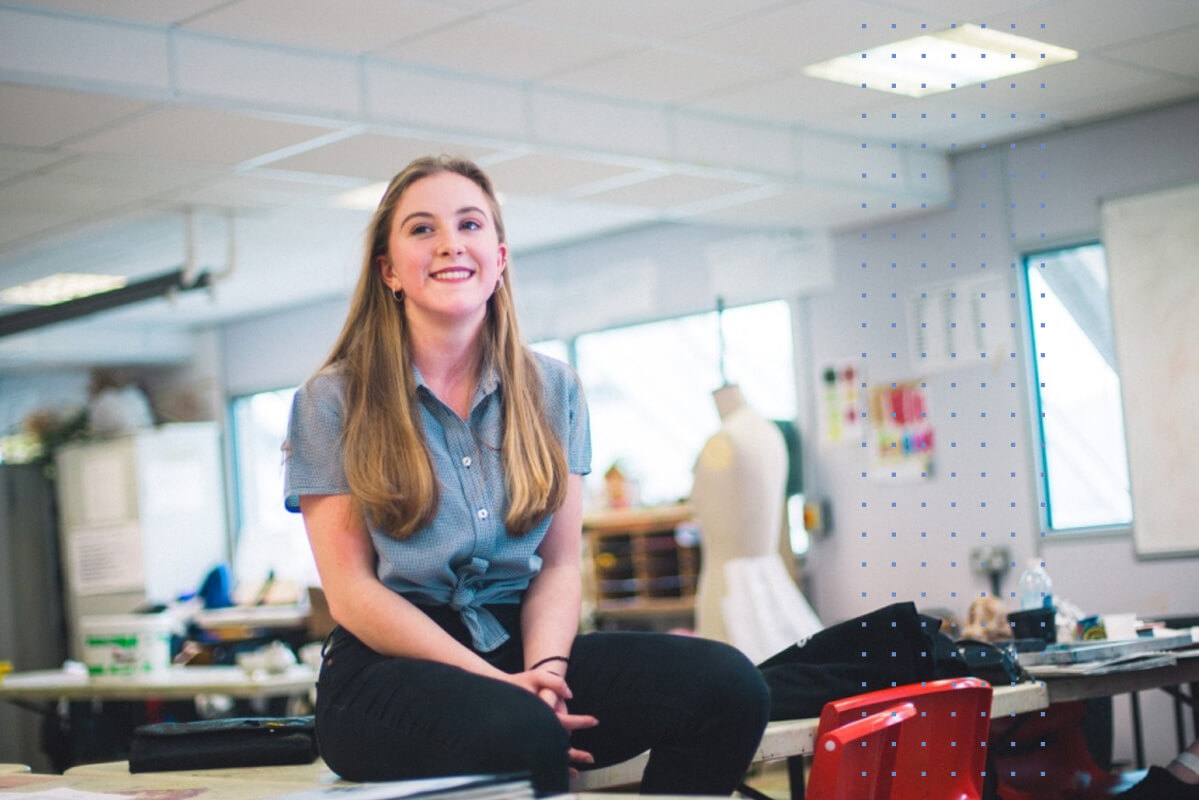 STUDENT PROFILE
TILLY JONES What do you enjoy most about your course? I love that you can experiment with lots of different media. What's your favourite thing about The Northern School of Art? The staff here are great and really supportive. What are your next steps? I want to go to the HE campus at Hartlepool to study BA (Hons) Costume Interpretation with Design. What's surprised you about your time here? I didn't know how much variety there would be. There's a big of range of things we can explore and go into!
COURSE NEWS