COURSE OVERVIEW
UCAS CODE W410 Our BA (Hons) Acting For Stage & Screen programme here at The Northern School of Art has been designed by working professionals to allow students to develop the skills required for performing on stage and screen. This joint approach gives experience of both mediums and offers the student a distinct advantage in the job market or to explore further the craft of acting. Students will develop core acting skills in voice, characterisation and physicality, which will be utilised in performances for stage and screen as well as working on contemporary and innovative performance practices.
BA (Hons) Acting for Stage & Screen Programme Specification 2018-2019
COURSE DETAILS
Alongside this skill development, students will work collaboratively with other degrees on brand new material created by the film and theatre scriptwriters to enrich your experience on the programme and give you a large body of work; finishing with a final show-reel and extensive CV with which to enter the marketplace with. Students are treated as 'actors in training', with professional standards expected on all projects. These skills will be developed by working alongside guest lecturers and industry professionals from theatre and film. We also have close working relationships with regional venues, where you will get involved with productions and live projects – these include Darlington Hippodrome, the Theatre Hullaballoon and the National Centre for Children's Theatre. The Northern School of Art is soon to open; The Bus Sheds – a commercial sound stage facility next door to our teaching facilities, which will be one of the largest such facilities in the UK. The programme has strong industry links with regional theatre and film companies, which help to shape the curriculum and offer an important network of contacts which can lead to future employment opportunities.
WHAT YOU WILL STUDY
on BA (Hons) Acting for Stage & Screen
In your first year (Level Four) you will explore:
• Core Acting Skills 1 • Script Interpretation • Contemporary Practice 1 • Production 1 • Contextual Students 1
In your second year (Level Five) you will develop:
• Core Acting Skills 2 • Acting for Film and Media • Contemporary Practice 2 • Production 2 • Contextual Studies 2
In your final year (Level Six) you will develop your practice through linked practice and study:
• Project Research and Preparation • Dissertation/Report • Final Major project • Final Show
STAFF
JONNY BUSSELL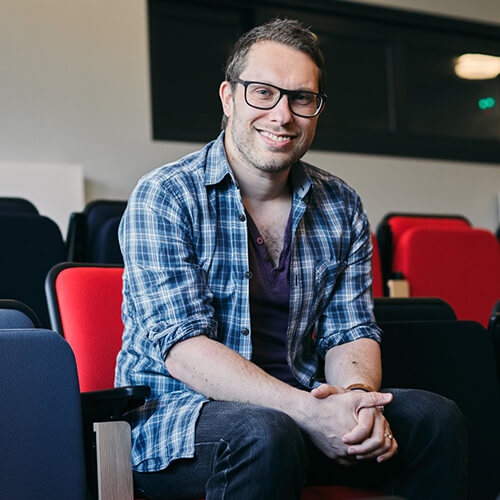 Programme Leader - BA (Hons) Acting for Stage & Screen Jonny graduated from Newcastle University with a First in Philosophy in 2007 and then went on to study MA Acting at Arts Educational Schools London, graduating in 2008. He gained his teaching qualification in 2012 whilst working at Newcastle College. Jonny is a member of Equity and Arcade Artists' network at Arc Stockton. After graduating from Arts Ed in 2008, Jonny has worked as an actor, writer and director predominately in the North East. Jonny has performed in plays such as 'Revenger's Tragedy', 'Duchess of Malfi' and 'The Government Inspector' at a number of North East theatres. He began his teaching career in 2011 at Newcastle College, becoming Programme Leader for Acting in 2014.
FACILITIES
On our campus we have:
A proscenium arch theatre
Three rehearsal rooms
one with sprung floor for physical theatre and movement
Double height TV studios
with green and blue screen
Sound recording
LATEST NEWS