COURSE OVERVIEW

Duration: 2 Years, Full-Time
Entry Requirements: 5 GCSEs (9-4/A*-C) UCAS points up to 56 (depending on grade outcome)
Campus: Middlesbrough

This course offers you the opportunity to discover how to communicate ideas and meanings in an expressive, inventive and very personal manner whilst at the same time exploring the real career pathways offered by this discipline.
COURSE DETAILS
The fine artists who deliver the course will help students to really 'see' the world around them and record their observations in new and exciting ways. You will experiment with abstract, figurative and symbolic approaches to visual communication using a whole range of approaches including drawing, painting and printmaking. On successful completion of an A-Level programme of study, you will have the skills and qualifications needed to progress onto a wide range of courses at foundation diploma level, degree level or to go directly into employment. Here's what some of our Fine Art students are doing now: Oliver Perry - Sculptor & designed art work for the Great North Run Rose McMurray - Fine Artist (exhibited at Leeds Art Gallery) Connor Shields - Sculptor (exhibited at Yorkshire Sculpture Part & member of Yorkshire Sculptures International Sculpture Network) Ashleigh Chinnock - Fine artist (Australia) Cal Dyer - Photographer (fine art & commercial) Sam Goldin - MUA freelance Make-up Artist Sammie Marshall- Lifestyle/fashion Influencer (112k followers) Daryl Watson - Highly successful Tattoo Artist - widely travelled completing many guest slots to showcase his work and has recently opened his own Tattoo Studio based in Leeds. Josh Bolam - Textile Designer working freelance for designers including Burberry Francesca Jordan - Makeup artist for ITV Television Studios Ben Cocker - Graphic artist & MD at Guerilla Cast Gabrielle Dejorgio - Gallery attendant, Baltic Sarah Ridings - Exhibition, WET productions
ENTRY REQUIREMENTS
A MINIMUM OF FIVE GCSES AT A*-C / 9-4 INCLUDING MATHS AND ENGLISH AT MINIMUM C/4 GRADE PLUS A PORTFOLIO OF ARTWORK AND EVIDENCE OF WRITTEN WORK.
MAXIMUM UCAS POINTS SCORE FOR FINAL GRADES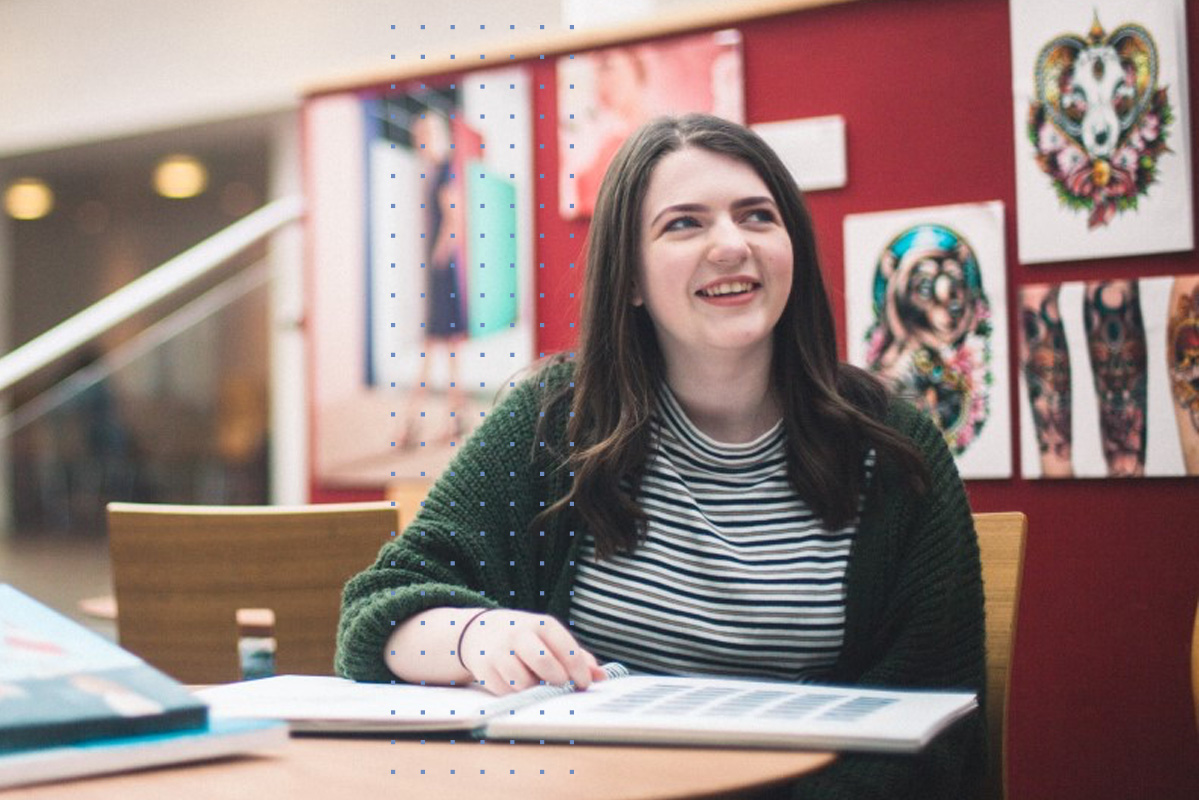 STUDENT PROFILE
SOPHIE SKILLCORN What do you enjoy most about your course? The amount of support we get, but we're still encouraged to work freely and explore. What's your favourite thing about The Northern School of Art? The atmosphere and how we're surrounded by creative people, it inspires me. What are your next steps? I want to do Foundation here after this year to help me understand exactly what creative path I want to go down and enhance my skills. What's surprised you about your time here? The amount of freedom we have and how it allows you to think more creatively and out of the box.
COURSE NEWS