FOR 2021-22 - FREE TRAVEL FOR STUDY
Travelling to our brand-new campus in the centre of Middlesbrough could not be simpler or cheaper. From September 2021 The Northern School of Art will be located on Newport Road, Middlesbrough, next door to Sainsbury's and within easy walking distance of the bus and rail stations. Many of our students will be able to take advantage of our free travel offer if they live more than 1 ½ miles from the campus. Below you will be able to find out all the travel services available to you!
Do you live near Easington, Peterlee, Hartlepool or Billingham?

You will be able to access our free dedicated bus service! Picking up along the way from Easington, through Peterlee, Hordon, Blackhall, Crimdon, various stops in Hartlepool, Newton Bewley and several stops in Billingham before heading into the School. There's no need to apply for anything. Once you have your student card you will just need to show the driver when boarding to access your free travel. You can find the timetable and stops below or read our
Easington Bus Service Information
leaflet.
Free Bus Service Stops & Times
West View bus stop on Thorpe Road Easington 07.25 Stephenson Road on Essington way 07.27 Edenhill Road on Surtees Road Peterlee 07.30 Hawthorne Cresent Horden 07.32 Co-op Blackhall 07.35 All bus stops en route to Crimdon 07.36 Crimdon Holiday Park 07.40 Hart Station - Bournemouth Drive (check both bus stops) 07:45 King Oswy Drive 07:47 Winterbottom Road 07:50 Raby Road 07:51 Middleton Road then transport interchange 07:52 Church Square 07:55 Travellers Rest 07:59 Owton Manor Lodge 08:01 Truro Drive/Stockton Road bus stop 08:02 Sappers Corner (Greatham Road End) 08:05 Newton Bewley Village 08:07 Billingham - Owinngton Farm 08:10 Marsh House Avenue The Lion Pub (Billingham) 08:12 The Forum 08:17 The Swan 08:18 The Northern School of Art - Middlesbrough Town Centre 08:45 *subject to change.
Do you live Teeside or East Cleveland?

If you are not eligible to use our dedicated bus service above but are still within the Teesside or East Cleveland area marked on the map below, you are able to apply through the school for a Smart Card pass for free travel on all Arriva scheduled bus services. Once your eligibility is verified at the final stage of enrolment (after GCSE results) you will receive your Smart Card in the post ready for the start of term. It will last for the full academic year. Your Smart Card will be valid for travel up to 9:00pm each weekday! If you are arriving at Middlesbrough Bus Station our school is just a quick two minute walk across the road and down Newport Road to the school.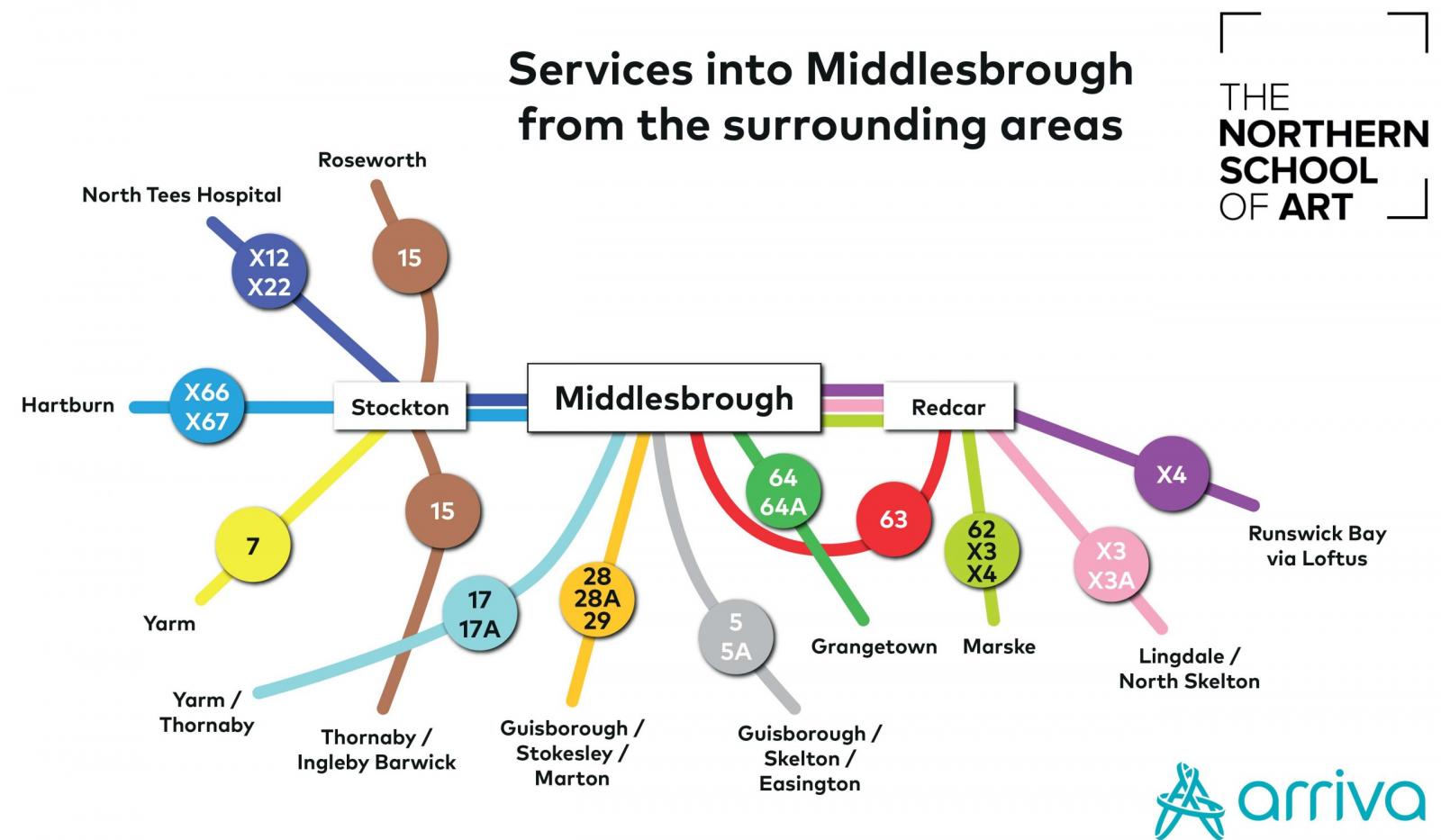 Travel by Train!

If you are unable to travel using the above options don't worry! Students can get a free season ticket to travel on Northern Railways trains during the school year (travelling to and from these stations Bishop Auckland, Shildon, Newton Aycliffe, Heighington, North Road, Darlington, Eaglescliffe, Thornaby, Seaham, Horden, Saltburn and Nunthorpe). Once your eligibility is verified at the final stage of enrolment (after GCSE results) you will receive your Smart Card Season Ticket in the post ready for the start of term and it will last for the full academic year. The Smart card is valid for evenings and weekends and on any train operator's service. If you are arriving at the Train Station you can either walk 10 mins down Wilson Street or through Middlesbrough Town Centre, past the bus station and across the road to the school.

Travel by Bike
For those student that prefer to travel to college by bike, we are accessible by a number or major cycle routes and our new building has cycle storage for you to securely store your bike whilst you study!
Support for Travel
For more information about our travel offer and other support available, please contact our Student Services Team at studentservices@northernart.ac.uk. *If you live more than 1.5 miles away from campus and don't live in an area served by our dedicated bus service or live close to one of the rail stations cited above.
All passengers are required to ensure that they arrive at their designated stop 5 minutes prior to the arrival time and ensure that they clearly signal to the driver to stop the vehicle. * Please note all buses depart from The Northern School of Art at 5.00pm Mon-Thurs and 4.30pm on a Friday. Fares may change – prices correct at time of printing (August 2019)