Our FE campus is moving! After many decades educating young creatives at our Green Lane campus this September 2021 we will welcome our students to our brand new campus located in central Middlesbrough! Students will benefit from our new facilities, spaces and will be situated in the heart of our thriving town centre. Our new campus is easier to travel to and close to all the fantastic things that Middlesbrough has to offer. Scroll down to view our sneak peek campus tour and read our FAQs about our relocation!

The Northern School of Art: Newport Road
Take a sneak peek at our new campus!
NEW CAMPUS FAQS
Learn more about why we are moving!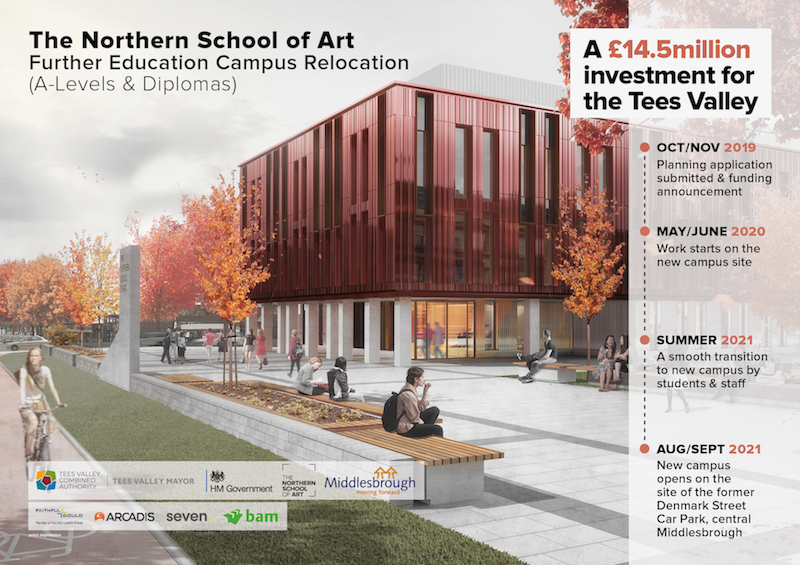 What is The Northern School of Art?

We are the only specialist art and design college in the North. · We are outstanding (Ofsted) at further education level which is our provision of A-levels and diplomas courses for 16 to 18-year olds. · We are TEF Gold at our university-level campus for degrees and postgraduate qualifications which means our students have some of the highest satisfaction rates and access to some of the highest quality teaching in the UK - that's why we are The Northern School of Art. · Our Further Education students have excellent progression into positive outcomes with 94% of our leavers in 2019 progressing into education, apprenticeships or employment. (Data compiled for academic year 2018/19 and submitted to the Education and Skills Funding Agency.)

Why is the School moving its college campus in Middlesbrough?

The simple answer is that the current building, Green Lane, is getting old and very expensive and difficult to maintain. This takes money away from teaching. Also, it is in the middle of a residential area and it is not easily accessible by public transport. It is not environmentally efficient. We cannot grow in our current campus and this limits what we can offer students in the future as we ensure our courses continue to respond to changing industry needs. For example, the range of studios and technical workshops we currently have - such as art studios, design studios and photography studios - now needs to evolve and offer new technology and spaces. This is to ensure students continue to experience the settings and skills they need for their potential future employment across the creative industries.

Why not refurbish your existing building?

It would cost at least as much to refurbish the existing building as build a new building in a better location. This would not be practical - we would have to temporarily move out and there are no suitable alternative buildings we could use whilst building work was underway. and It would also adversely affect the learning experience of our students.

Where is the new campus going to be?

The new campus will be next to Sainsbury's, alongside the A66 – it will be built on the site of the current Denmark Street car park in Middlesbrough. We will be very close to both the bus station and railway station.

Why did you choose this new location?

We employed specialist property consultants and worked closely with our colleagues at Middlesbrough Council to look at a range of existing buildings and sites and this one was the best option. As part of this work we also analysed the journey times for students living in the areas we attract students from, and central Middlesbrough was the most easily accessible for the largest numbers of actual and potential students. It also works well as it is close to Digital City and will form a landmark building to complement the regeneration of TS1 central Middlesbrough.

Will you still run subsidised coaches to get students to the new campus?

We hope that as we will be so close to the railway and bus stations more students will use public transport. Over the coming months we will be developing a new travel plan and exploring partnerships with public transport operators. We know that public transport may not be a solution for everyone so we will be exploring options to support student travel - as yet we haven't ruled anything out.

When does the new campus open?

Our new campus will open in September 2021!

I will be starting my studies at The Northern School of Art in September 2020; will I be affected?

No, you will study as normal at Green Lane until the end of summer term 2021. Over the summer holidays 2021, we will relocate all teaching facilities to the new campus. Then in September 2021, it is intended you will return to your studies at the new campus. We are now in the process of ensuring that the new campus will be Covid-secure and the wellbeing of staff and students will be our priority.

What benefits will the new campus bring?

There will be a range of benefits to students - now and in the future - plus this relocation will bring economic and environmental benefits to the area. · Our new campus building will enable us to teach for the changing demands of the creative industries - our old building does not have the scope to do this. · As a dynamic, creative institution for the arts and creative industries, we attract people (events, students, visitors) and bring footfall to local businesses. · We will support the better use of public transport both rail and bus/ · We will be in the right place for students of Middlesbrough and the wider region - alongside the CDI cluster in BoHo/Digital City.

How will the new building and campus be paid for?

The relocation is supported by a £14.5million grant provided by the Tees Valley Mayor and the Combined Authority. We are hugely grateful of the support and financial backing of the Tees Valley Mayor and the Combined Authority as well as the Middlesbrough Mayor and Middlesbrough Council.

What will happen to the old site at Green Lane?

The old site will be sold; it is likely to be sold for residential building.

What will happen to the money from the sale of the site?

This will be passed back to Tees Valley Mayor and Combined Authority for reinvestment within the Tees Valley as part of the funding agreement..

Is it true you want to become a university?

It is a goal of the School to gain degree awarding powers and transfer from the further education sector and become a Higher Education Institution (HEI). So, the answer is yes, we would like to become a university as this will improve the profile of both the School and the Tees Valley. The evidence clearly shows that gaining university title leads to growth in student numbers which in turn will bring economic benefits to the area. It is worth remembering that the creative industry sector is a graduate sector more than 60% of jobs that are graduate level – significantly higher than the UK average.

Aren't arts or creative degrees a waste of time?

No. The creative industries is the third largest sector in the UK and has grown, outstripping the rest of the economy since 1998, now contributing over £101billion to the UK economy each year (DCMS, 2018). 1 in 11 people in the UK are employed in the creative sector, and the in the north east the sector is growing faster than any other English region outside London. A creative degree is a highly technical, demanding degree and can encompass the technical, software and analytical skills that lead to careers in a wide range of sectors: film, animation, design, fashion, architecture, costume, exhibitions and events, production, brands, editorial, photography and journalism - to name a few! The new campus will also be located near to Middlesbrough's DigitalCity Business and Boho Zone for digital media, digital technology and creative sectors.