COURSE OVERVIEW

Duration: 1 Year Full-Time
Entry Requirements: 1 A level or equivalent UCAS points up to 112 (depending on grade outcome)
Campus: Middlesbrough

The well-established Foundation course is designed for post A-Level (or equivalent) 18-year-old students, to provide a unique transitionary year between 6th form/college and creative degrees at university.

It's an intensive experience which enables you to develop your own individual creative identity, discover which art and design discipline best suits you and equips you with the skills and confidence to apply and thrive at university on any of the many creative degrees available nationally and internationally.
COURSE DETAILS
In the first 6-8 weeks you try out all the different art and design areas, working with a multi-disciplinary approach to extend your creative practice in experimental and innovative ways. Foundation immerses you in a range of exploratory activities which develop skills, introduce new techniques, approaches and, most importantly, new ways of seeing the world. You will develop high levels of critical thinking and creative interpretation and gain an understanding of how to work with creatives across all disciplines. Throughout you'll follow an intensive programme of drawing, including life drawing. You will also have the potential opportunity to explore a wide range of specialist techniques including ceramics, painting, photography, screen printing, animation and illustration. A 3 PART COURSE Part 1 Investigation into Creative Practice the first 6-8 weeks of creative activities will guide you to explore approaches and processes intrinsic to all areas of Art and Design. You will learn more about the creative and design process, to think outside the box, to work open-mindedly and experientially and you'll learn to reflect on and challenge your own thinking. Part 2 Developing Practice you will develop your skills and creative identity across a range of holistic multi-disciplinary activities, producing work to pursue your creative progression goals. Your pathway tutor supports you through the UCAS application and interview process to achieve your aims. Part 3 Consolidating Practice is the final part and the only graded part of the course. You'll design and complete your own project which will showcase your learning as a part of the Diploma Exhibition. Foundation, which is free to those aged under 19 years old, helps you avoid costly mistakes by enabling you to be sure of your subject choice at degree level. We have excellent rates of progression to our own university level campus and other top universities across the country.
Your Creative Career Our students enjoy a range of careers or further study, including graphic design, 3D & product design, automotive designer, costume, fine art, painting & print-making, interior design, fashion, textiles, illustration, architecture, photography, set design, and fashion. We hold 'The Foundation Northern Arts Prize' which attracts submissions from across northern England. As part of our industry liaison group, we welcome a range of industry practitioners as valued supporters of the course, including John Bowes, Middlesbrough Museums Manager, Matthew Young, studio assistant to Sir Antony Gormley and best-selling illustrator, Katy Hudson. Students have also progressed to degrees in a range of other areas such as English, History and Primary Education. Alumni from all pathways have gone on to successful careers, for example: • Alan Vest, illustrator, The Guardian • Alisdhair Willis, creative director, Hunter • Ben Benoliel, official photographer for Nigel Cabourn • Ben Gell, creative lead, Social Allies • Curtis Jobling, illustrator (creator of Bob the Builder, Raa Raa the Noisy Lion) • Darren Richardson, founder, Gardner Richardson • Doug Priestley, menswear designer, Crew Clothing • Emma Charles, creative director & successful accessory designer • Faye Butler, textile artist • Frances Stringer, design director (womens), Pringle of Scotland • Jamie Kirk, illustrator, winner of D&DA • Jemma Ooi, co-founder, CUSTHOM interior design studios & tutor, The Royal College of Art • John Bowes, Middlesbrough Museums Manager • Kate Fearnley, Entrepreneur & MD, Kate Fearnley • Katie Tomlinson, painter & community artist • Katy Hudson, best-selling author & illustrator of international bestsellers • Lucy Hutchcraft, costume designer • Martin Croft, assoc., senior industrial designer, DCA Design International • Matthew Young, studio assistant to Sir Antony Gormley • Max Gilgenmann, content director, Neonyt • Michael O'Reilly, set designer, Royal Opera House • Neil Edmundsen, entrepreneur • Richard Milward, author • Ryna Murray, co-founder, House of Type • Sarah Burton, head of buying (fashion & beauty), Fortnum & Mason


The Northern School of Art's Middlesbrough campus has been given another 'Outstanding' rating by Ofsted. Following an intensive four-day inspection by six inspectors the School's further education provision has retained the top rating it has held since 2009.
Find out more!
ENTRY REQUIREMENTS
ONE A-LEVEL PLUS AT LEAST THREE GCSES (INCLUDING MATHS AND ENGLISH) AT C/4 GRADE OR ABOVE PLUS A SUITABLE PORTFOLIO OF WORK
MAXIMUM UCAS POINTS SCORE FOR FINAL GRADES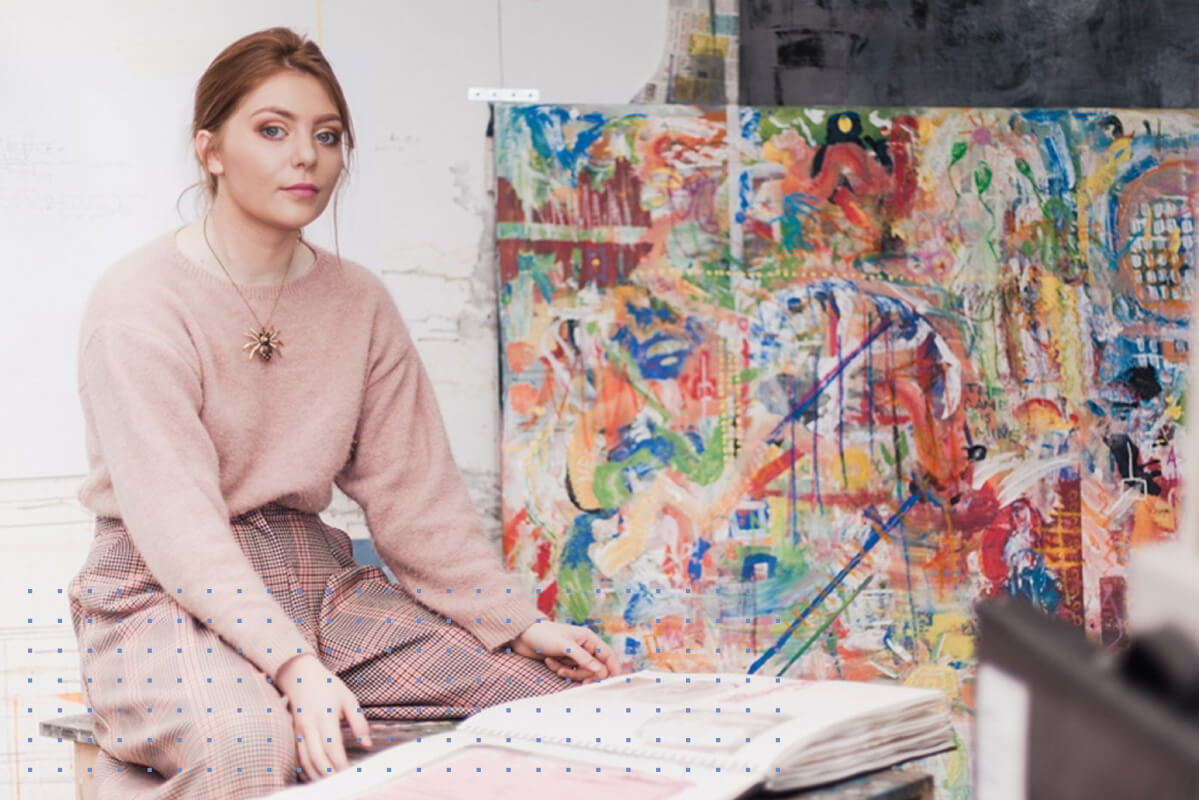 STUDENT VOICE
FIONA CAMERON What do you enjoy most about your course? It's the freedom to be able to do what you want to do and there's so much support available. What's your favourite thing about The Northern School of Art? It's a really friendly atmosphere and a nice community. The teachers are always more than happy to help and support, too. What are your next steps? I have a place at Oxford to study Fine Art. I always knew I wanted to further my study in fine art but didn't know where I wanted to go and then I finally plucked up the courage to apply to Oxford. The interview was really intense - I'm so happy to have been given a place. What's surprised you about your time here? I kind of knew the gist of the course as my brother studied it before me and he absolutely loved it. When I saw his progress it made me want to study here too. It's changed my style a lot and has given me so much more confidence, allowing me to experiment with lots of different disciplines. We can go into graphics and fashion textiles which really helps to develops areas in fine art too or whatever your chosen pathway is.
COURSE NEWS