COURSE OVERVIEW

Duration: 2 Years Full-Time
Entry Requirements: 4 GCSEs (9-4/A*-C) UCAS points up to 168 (depending on grade outcome)
Campus: Middlesbrough

This course offers wide ranging opportunities for you to explore a diverse range of career options within the creative industries. If you are still unsure of a specific area of study, this is the course for you. It encourages individuality to allow you to explore a wide range of artistic skills and experiences allowing you more time to experiment and consider your creative career options.

You are encouraged to take an individual approach towards your assignments which are designed to challenge your creative thinking and uniqueness.
COURSE DETAILS
You will explore 2D, 3D, textiles, ceramics, digital art and mixed media approaches. We promote individual growth and tailor the course to fit the needs of individual progression goals, as well as collaborative working practices which will all result in a professional portfolio of work. Students are encouraged to take part in a range of work experience and professional 'live briefs' to gain experience for future job of study applications. These have included: • Circus - an exhibition including costume design, illustration, 3D installation • Wintertide Festival - with 'BloomInArts' an arts development company working with community groups and local schools • Graffitti - design and spray-painting local skate park • Topshop, Metro Centre - design and sale of children's toys • The Festival of Thrift - young voices In addition to this, you will learn how to use computers as design and drawing tools, explore working in the community and art education and experiment with both 2D and 3D outcomes. You will benefit from a number of educational visits to explore local and regional artistic talent, meet clients who provide live briefs, work closely with schools and the community on projects and enjoy working in a creatively charged studio with like-minded people. Successful completion of the course gives the qualifications and skills required to progress on to a broad range of degree courses such as fashion, textiles, production design, arts management, graphics, costume, illustration, photography, fine art, comic illustration, animation, production for stage and screen, theatre industry, film, model making, special effects, ceramics or teaching.
'One of the aspects I found really successful... I was unsure of what I wanted to do when I started the course and what specialism I wanted to work in and I hope the course would help me decide. Now that I have finished the course it has helped me gain a strong idea of what specialism I want to work in and where I want to be in the future.'
ENTRY REQUIREMENTS
A MINIMUM OF FOUR GCSES AT C/4 OR ABOVE INCLUDING MATHS AND ENGLISH AT GRADE D/3, PLUS A PORTFOLIO OF WORK. (IF YOU HAVE MATHS/ENGLISH AT GRADE D/3 YOU WOULD BE REQUIRED TO WORK TOWARDS THESE QUALIFICATIONS ALONGSIDE YOUR COURSE)
MAXIMUM UCAS POINTS SCORE FOR FINAL GRADES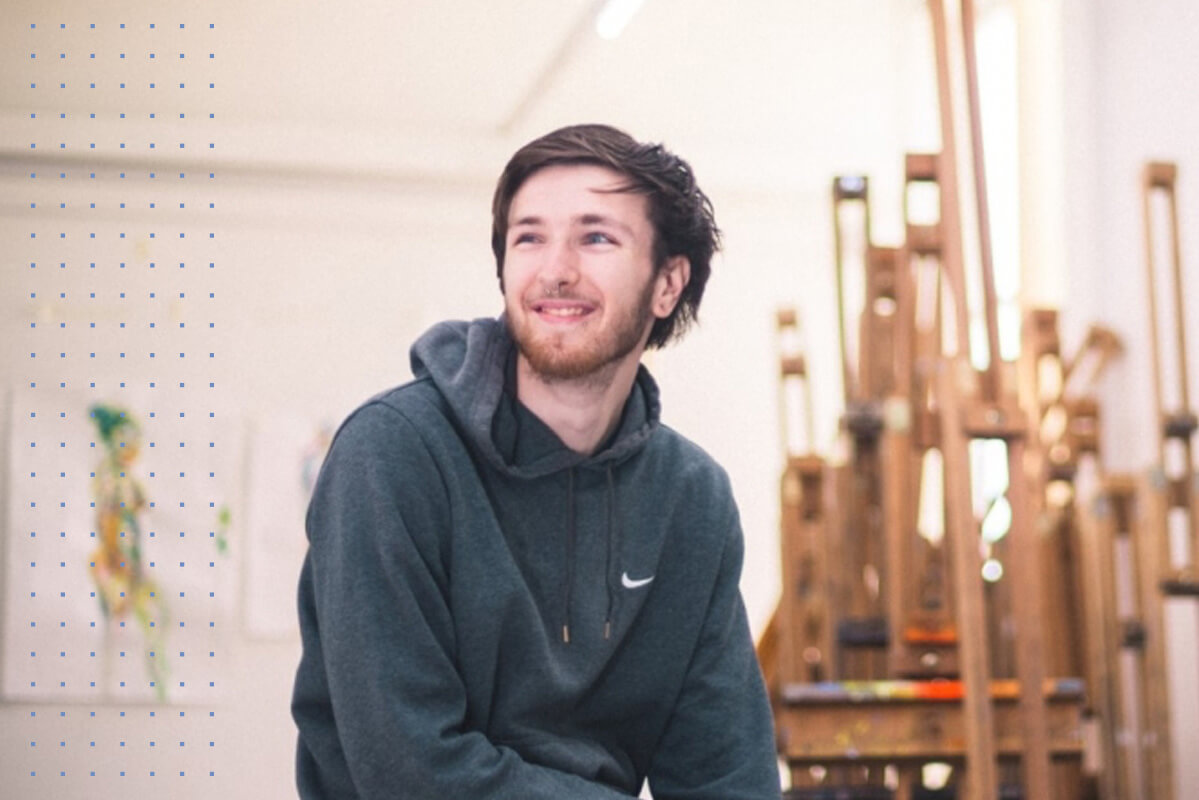 STUDENT PROFILE
LIAM SIMPSON What do you enjoy most about your course? I just love how much freedom we get. We can explore any type of art with lots of encouragement. What's your favourite thing about The Northern School of Art? Before being a student here, I didn't know how much support I'd get. It's really helped me! What are your next steps? I'm going to the Northern School of Art University Level Campus in Hartlepool to study Textiles and Surface Design. What's surprised you about your time here? I didn't expect it to be as wide range as it is, I was just expecting lots of drawing and painting but it's so much more; it ranges from textiles to mix media and even fashion!
COURSE NEWS