COURSE OVERVIEW
Our UAL Extended Diploma Fashion course here at The Northern School of Art will give you an excellent understanding of the whole design process, through specialist teaching that covers fashion sketching, garment construction, technical investigation, fabric manipulation, portfolio building and fashion promotion and styling. Emphasis is placed on professional practice, as you work in a studio full of industry-standard equipment. There may be also opportunities to take part in educational visits to centres of fashion excellence, such as Paris and London.
COURSE DETAILS
Fashion is one of the most powerful art forms, it allows us to express ourselves through the clothes that we design and wear. The course will give you a well-rounded education to help you understand the many areas of the fashion industry and is ideal for anyone wishing to embark on a career in fashion. Successful completion of the course gives the qualifications and skills required to progress onto a range of degree courses or go directly into employment. The official title of this course is UAL Extended Diploma in Art and Design - this is what will be printed on the certificate at the end of the course. It has the equivalent UCAS points to that of studying 3 A-Levels. The awarding body for this course is UAL: University of the Arts London Awarding Body.
ENTRY REQUIREMENTS
A MINIMUM OF FOUR GCSES AT C/4 OR ABOVE INCLUDING MATHS AND ENGLISH AT GRADE D/3, PLUS A PORTFOLIO OF WORK. (IF YOU HAVE MATHS/ENGLISH AT GRADE D/3 YOU WOULD BE REQUIRED TO WORK TOWARDS THESE QUALIFICATIONS ALONGSIDE YOUR COURSE)
MAXIMUM UCAS POINTS SCORE FOR FINAL GRADES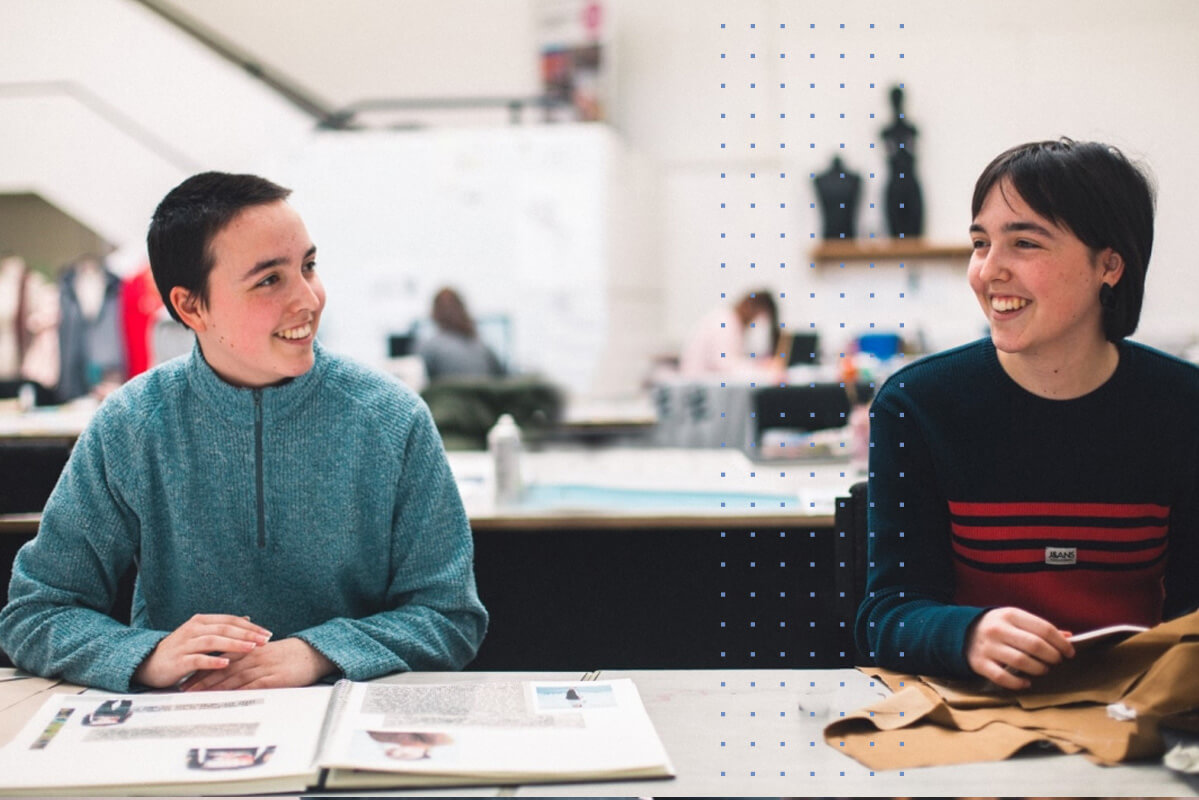 STUDENT PROFILE
ROBYN & MAY TAYLOR What do you enjoy most about your course? May: The amount of creativity and boundaries we can push with our work. Robyn: And the research that goes into it all is really interesting. May: Also challenging yourself all the time, we're constantly developing our techniques. What's your favourite thing about The Northern School of Art? May: Definitely how comfortable it feels here and the whole atmosphere! Robyn: The support is amazing from the tutors and the staff. We're never short of someone wanting to help. What are your next steps? Both: We've got a conditional offer at Edinburgh University to study fashion design. What's surprised you about your time here? Robyn: I didn't think it was going to be that experimental. We learn a wealth of skills here! May: We didn't realise how much we'd pick up and learn.
COURSE NEWS