COURSE OVERVIEW
If you are excited about emerging technologies and how we interact with them on a daily basis, this UAL Extended Diploma Interactive Design course is for you. Learn the skills necessary to take your ideas and concepts through to digital solutions, such as illustrations, animations, image manipulation, 3D environments, characters, and games.
COURSE DETAILS
This UAL Extended Diploma Interactive Design course at The Northern School of Art offers you the opportunity to explore and design using digital illustration techniques. You will create concept designs in our dedicated state-of-the-art studios, developing your creativity while being supported to improve through drawing and design skills. As part of the programme, you will also learn about 2D and 3D animation, graphic novel design, story boarding, video, editing, and character development. The course combines creativity and traditional skills with technical experience. You'll use state-of-the-art software including Photoshop, 3D StudioMax, Mudbox and the Adobe Creative Suite. There are opportunities for excellent industrial links and 'live projects' set by designers who will help develop your ideas professionally. On our UAL Extended Diploma Interactive Design course, you may also benefit from a range of educational visits to gather first-hand research and experience design in its many forms. There may also be trips to Harry Potter World, Disney Land Paris, and the Yorkshire Sculpture Park, among others. The official title of this course is UAL Extended Diploma in Art and Design and this is what will be printed on the certificate at the end of the course. It has the equivalent UCAS points to that of studying three A-levels. The awarding body for this course is UAL: University of the Arts London Awarding Body.
ENTRY REQUIREMENTS
A MINIMUM OF FOUR GCSES AT C/4 OR ABOVE INCLUDING MATHS AND ENGLISH AT GRADE D/3, PLUS A PORTFOLIO OF WORK. (IF YOU HAVE MATHS/ENGLISH AT GRADE D/3 YOU WOULD BE REQUIRED TO WORK TOWARDS THESE QUALIFICATIONS ALONGSIDE YOUR COURSE)
MAXIMUM UCAS POINTS SCORE FOR FINAL GRADES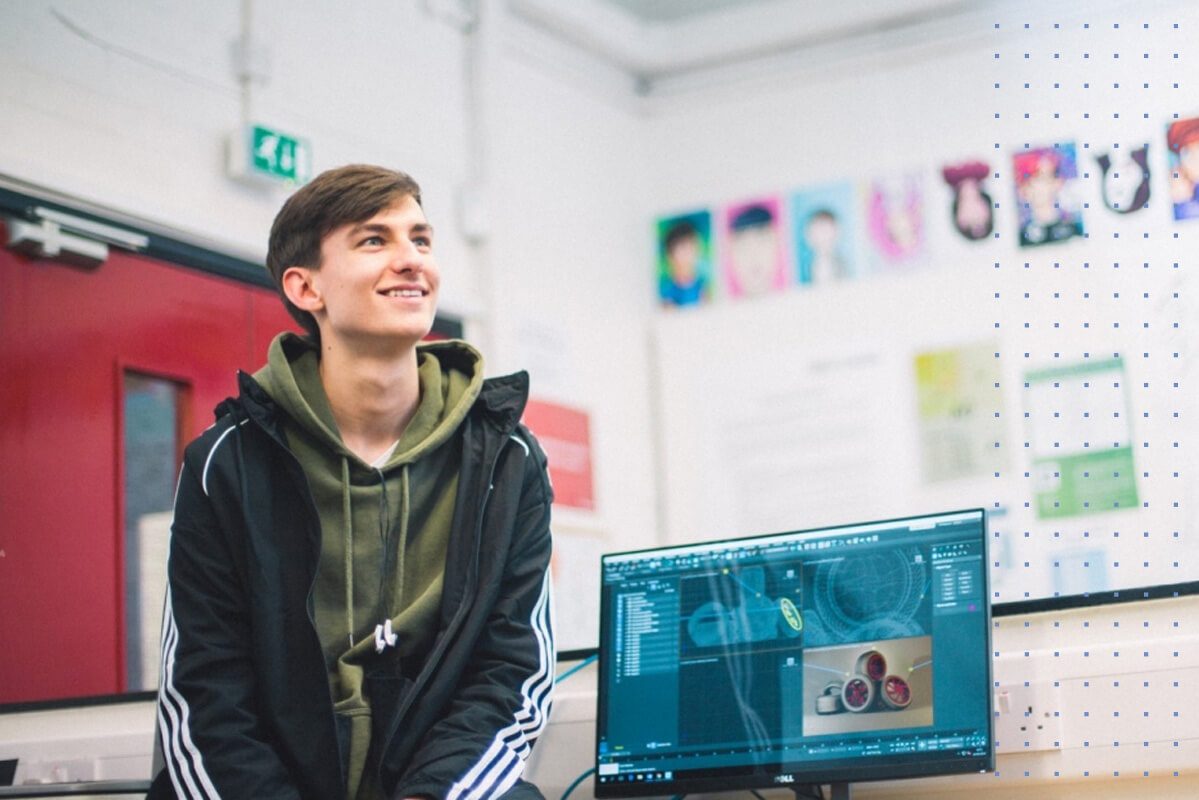 STUDENT PROFILE
JACK STALKER What do you enjoy most about your course? I want to go into games design so I enjoy 3D modelling the most as I like visualising 2D concepts and putting them into 3D models. What's your favourite thing about The Northern School of Art? I absolutely love the friendly vibe, everyone knows everyone and it's not too daunting! Compared to other colleges I looked at, I felt very at home here. What are your next steps? I want to go and study game art for video games, which is 3D modelling and 3D design for video games. What's surprised you about your time here? I didn't realise how much depth we'd cover in interactive design, all of the techniques and how much software we had.
COURSE NEWS