About this Master's Degree (MA)
Course Overview
MA Arts Practice 1-year (full-time) October 2022 Programme Specification
MA Arts Practice brings together students and professionals with a desire to develop and diversify their arts practice. Throughout the programme, you will have the autonomy to specialise in one area of creative practice, or work on multiple projects, individually or collaboratively; the choice is yours. You will explore creative materials and processes, practice-led research, while developing your professional confidence, as you explore your passion and potential, culminating in the presentation of your final MA exhibition.

Course Details
Joining the exciting community of art practitioners in this region, you will be working alongside art graduates from different disciplines and backgrounds. The interdisciplinary approach reflects the contemporary and historical practice in relation to local, national and international culture and critical theory. The programme provides a balance of advanced practice, theory and technical development through a series of lectures, seminars and cross-disciplinary collaborations. The programme provides you with the opportunity to develop your individual specialist practice, technically honing and developing existing skills, while having access to resources across the School in multidisciplinary exploration and exchange. There will be opportunities for engagement with commissions, exhibition, curation and professional exhibition, live brief and awards as you develop your professional profile throughout the programme. You will develop and refine specialist practice, while building a solid understanding of the creative sector and your place within it. MA students will have the opportunity to participate in newly-launched 'The Northern Art Gala' which will be an annual series of exhibitions display postgraduate student work. Themes of Arts Practice could include: · Art Direction · Photography · 3D Practices; Sculpture · Fine Art · Painting & Sculpture · Digital Arts · Installation & Site-Specific Work · Curation · Printmaking · Artist Film, Moving Image and time-based practice
Master's Degree Focus
The focus of this Masters Degree is your art work, within a range of creative disciplines and your approach to researching and realising your commercial opportunities. Using this degree as a stepping stone to starting your own business or establishing a professional practice. Modules of study will include: • Extended Practice • Specialist Practice • Practice Resolution
A Creative Community
The dedicated postgraduate studios provide you with spacious collaborative spaces and flexibility to engage cross-disciplinary throughout a year of study. The programme will provide you with the skills to solve complex problems through innovation and exploration of ideas, intended to strengthen and develop your field of study and specialist practice. The interdisciplinary approach will allow you to explore your specialist route within the arts, with opportunities to work collaboratively and occupy a broader interest in the interdisciplinary approach of creative practice, as part of a creative community. Access to technical workspaces and technical support will allow you to develop your practice and strengthen your independence as a practitioner throughout studio modules, while dedicated lecturers and supervisors will extend your professionally thinking and its interplay with the arts scene and creative industries.
APPLY NOW FOR A MASTER'S DEGREE
Teaching Staff
Olivia Burton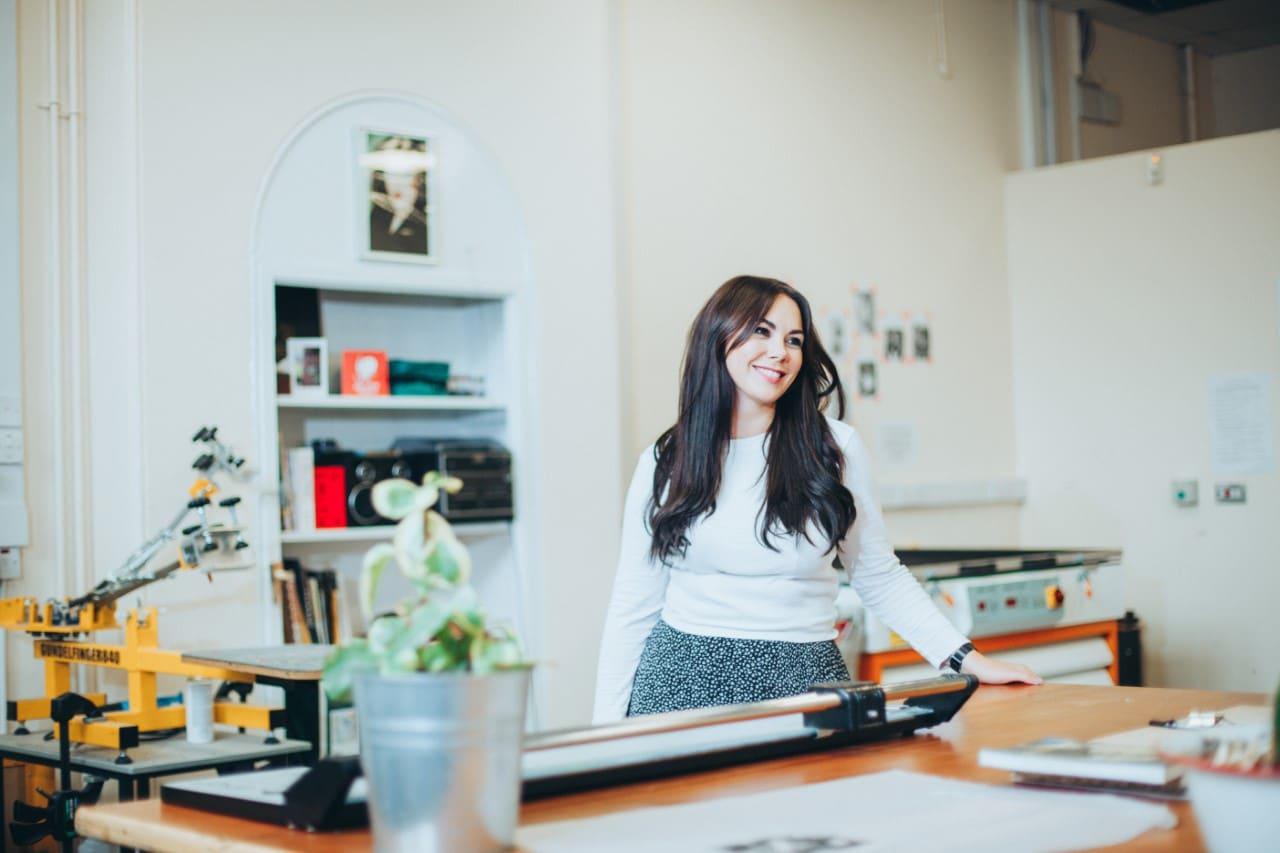 Faculty Leader Olivia joined The Northern School of Art at the beginning of 2017, after working in industry for over ten years. Olivia's career began with her working with a number of leading graphic design and advertising agencies. Olivia's most recent role in the industry focused on internationalising a design and fit out company. Olivia led the brand campaign in the Middle East, managing a design team and leading international design projects for the hospitality industry. Operating freelance, Olivia developed an online design business to promote local and emerging design practitioners, winning a number of national and entrepreneurial awards. She is a regular guest speaker at Digital Leaders and Woman in Digital and had worked as an enterprise mentor. Olivia's own practice has a digital focus. She is interested in digital and motion graphics and Olivia's expertise is in research-driven, commercially orientated design. Her keen interest is in the area where design meets business. Olivia's skills lie in developing the student's ability to design commercially aware graphic and digital solutions. Qualifications: BA (Hons), MA, (Studying PhD), CIM, FHEA