COURSE OVERVIEW

Due to the recent outbreak of Covid-19 we have taken extra measures to make your application process a little easier! At the Northern school of Art we are dedicated to providing excellent creative education but understand the safety issues surrounding the current pandemic. Because of this we are temporarily taking away the interview process. Apply to our BA (Hons) Digital Design & Advertising degree today using your online portfolio. Further information will be sent to all perspective students after applying.
UCAS CODE W213 If you're looking for an advanced digital design degree with a commercial focus, that will set you on course for a career in online media, the BA (Hons) Digital Design & Advertising degree is for you. This course equips students with skills applicable to all spectrum's of the industry including digital design, visual communication, creative advertising, strategy, user experience, app design, web design and account management.
BA (Hons) Digital Design & Advertising Programme Specification 2019-2020
Thinking of applying? Book your place on anopen day! Or find out more about our fees&housing.
COURSE DETAILS
Developed directly with industry to ignite the mind of the true creative thinker, you will develop and refine your skills as a digital designer through branding, digital advertising, campaign and social media marketing, animation & motion graphics, app development and product enterprise. Paired with problem solving, consumer driven strategy, digital campaigns and social media platforms, you will explore the full life cycle of a product or service from concept through to market. As graduates you will leave us primed as innovative digital designers. Developed and working closely alongside our
Graphic Design degree,
this Digital Design & Advertising course offers digital, campaign and commercially focused briefs through shared modules.
We offer subjects including:
• digital image-making • digital layout • motion graphics • animation • branding & campaign design • social media design • web & app design • digital advertising • 3D & CGI design During the programme you will be encouraged to submit to national and international competition briefs, such as those set by
Design & Art Direction (D&AD),
Young Creatives Network and
You Can Now (YCN)
amongst others. Regular live projects and guest speakers from industry will enhance your portfolio and learning. Collaborative projects and placement opportunities are encouraged during your study to establish yourself as an emerging designer within this growing and fast paced industry. You will have the opportunity to develop and incorporate other areas into your practice such as photography and 3D design. You will have the creative freedom to experiment with exhibition design and collaborate with
other programmes
to enhance your portfolio, as well as engage in live projects from leading international design and advertising agencies. We work with
Visualsoft,
Luxxlabs,
LSM,
88 Design,
Boho Zone & Narrative. Once you have developed your base knowledge, you will build your own design direction as you begin to specialise in your chosen field. Your final year is more industry-focused as you begin independent and self-directed projects, developing your individual voice as a digital designer.
Graduate Destinations
Our digital focused design alumni are working all over the world in creative areas for companies including: •
Media Monks
•
Allgood
•
Curious 12
• Good Fridays Creative Agency • Emap International Limited •
Epiphany Studio
•
Visualsoft
•
BCG Digital Ventures
WHAT YOU WILL STUDY
on BA (Hons) Digital Design & Advertising
In your first year (Level Four) you will explore:
• Creative Processes and Visualisation • Digital Design and Brand Communication Production • Advertising Communication and Digital Culture • Digital Design and Narrative
In your second year (Level Five) you will develop:
• Digital Design Production • Digital Design and the User Experience • Advertising Communication and Digital Culture • Digital Design and Advertising Specialism
In your third year (Level Six) you will produce:
• Project Research and Preparation • Dissertation/Report • Final Major Project • Final Show and Portfolio
STAFF
OLIVIA WATSON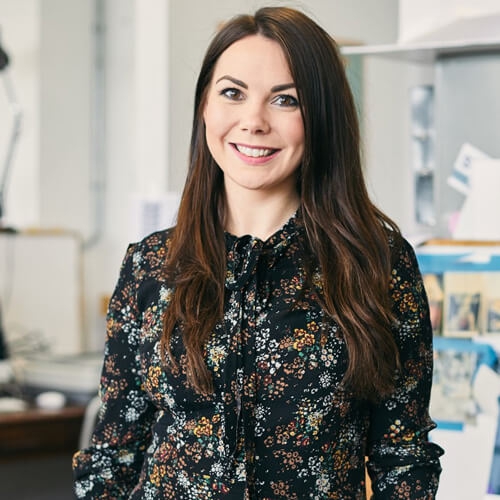 Programme Leader Olivia joined The Northern School of Art at the beginning of 2017, after working in industry for over ten years. Olivia's career began working with a number of leading graphic design & advertising agencies and clients. Her most recent roles in the industry focused on internationalising a design and fitout company. Olivia led the brand campaign in the Middle East, managing a design team alongside leading international design projects for the hospitality industry. Operating on a freelance basis, Olivia developed an online design business to promote local and emerging design practitioners, winning a number of national and entrepreneurial awards. She is a regular guest speaker at Digital Leaders and Woman in Digital and had worked as an enterprise mentor. Olivia's own practice has a digital focus. She is interested in digital and motion graphics .Olivia's expertise is in research driven, commercially orientated design. Her keen interest is in the area where design meets business. Olivia's skills lie in developing the student's ability to design commercially aware graphic and digital solutions.
CAREER PATHS
This degree is for you if you wish to have a career in:
DIGITAL DESIGN
DESIGN STRATEGY
USER EXPERIENCE DESIGN (UX)
APP & WEB DESIGN
AGENCY ACCOUNT MANAGEMENT
PROJECT MANAGEMENT
ADVERTISING
LATEST NEWS