This course equips students with skills applicable to all spectrum's of the industry including digital design, visual communication, creative advertising, strategy, user experience, app & web creation and account management. Developed directly with industry to ignite the mind of the true creative thinker. If you're looking for an advanced digital design degree with a commercial focus, that will set you on course for a career in online media, our BA (Hons) Digital Design & Advertising degree is for you.
You will develop and refine your skills as a digital designer through branding, digital advertising, campaign and social media marketing, animation & motion graphics, app development and product enterprise. Paired with problem solving, consumer driven strategy, digital campaigns and social media platforms, you will explore the full life cycle of a product or service from concept through to market. As graduates you will leave us primed as innovative practitioners. Developed and working closely alongside our
Graphic Design degree,
this Digital Design & Advertising course offers digital design, campaign and commercially focused briefs through shared modules
Student Voice
Watch now to find out more about what it's like to be a student on this degree programme.
STAFF
OLIVIA WATSON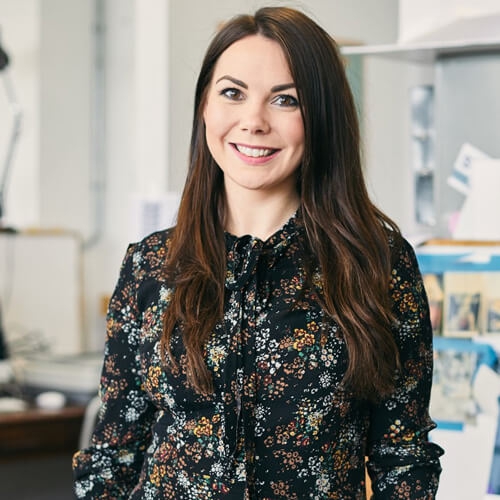 Faculty Leader Olivia joined The Northern School of Art at the beginning of 2017, after working in industry for over ten years. Olivia's career began working with a number of leading graphic design & advertising agencies and clients. Her most recent roles in the industry focused on internationalising a design and fitout company. Olivia led the brand campaign in the Middle East, managing a design team alongside leading international design projects for the hospitality industry. Operating on a freelance basis, Olivia developed an online design business to promote local and emerging design practitioners, winning a number of national and entrepreneurial awards. She is a regular guest speaker at Digital Leaders and Woman in Digital and had worked as an enterprise mentor. Olivia's own practice has a digital focus. She is interested in digital and motion graphics .Olivia's expertise is in research driven, commercially orientated design. Her keen interest is in the area where design meets business. Olivia's skills lie in developing the student's ability to design commercially aware graphic and digital solutions.
CAREER PATHS
This degree is for you if you wish to have a career in:
DIGITAL DESIGN
DESIGN STRATEGY
USER EXPERIENCE DESIGN (UX)
APP & WEB DESIGN
AGENCY ACCOUNT MANAGEMENT
PROJECT MANAGEMENT
ADVERTISING
LATEST NEWS