COURSE OVERVIEW

Due to the recent outbreak of Covid-19 we have taken extra measures to make your application process a little easier! At the Northern school of Art we are dedicated to providing excellent creative education but understand the safety issues surrounding the current pandemic. Because of this we are temporarily taking away the interview process. Apply to our BA (Hons) Illustration for Commercial Application degree today using your online portfolio. Further information will be sent to all perspective students after applying.
COURSE DETAILS
Our BA (Hons) degree in Illustration for Commercial Application here at The Northern School of Art is a unique course that offers opportunities to build a credible contemporary and commercially aware illustration portfolio, with training from working practitioners in the industry. Our degree is unique in that we offer a distinctive studio culture; no two days on this course are ever the same. We back this up with a wealth of industry links, exhibitions and opportunities.
What to expect when you join us
• From the moment you start, you are an illustration industry professional as a member of the
Association of Illustrators.
• Students are given their own individual work space and a wealth of industry standard resources. • We provide you with access to the high profile illustrators from different areas within the industry through our extensive visiting lecturer scheme. • We support and guide you to have your own unique illustrative voice, evident from the diversity and breadth of our students work.
We exhibit in places such as:
•
The Coningsby Gallery
•
The House of Blah Blah
•
The Festival of Illustration
•
Ernest
•
Truman Brewery
(Degree Show)
Commercial opportunities for our students have included:
•
Spitalfields Market
- Level 5 students selling work •
Coningsby Gallery
- Level 4 selling exhibition •
The House of Blah Blah
- Selling exhibition for Level 4 / 5 / 6 •
Ernest
- Two exhibitions of successfully submitted work This course is also behind the successful
The Northern Festival of Illustration
, which runs bi-annually. The festival is an arts council supported exhibition of internationally renowned illustrators and a series of workshops for illustrators of all ages.
WHAT YOU WILL STUDY
on BA (Hons) Illustration for Commercial Application
In your first year (Level Four) you will explore:
• Drawing in contemporary illustration styles • Creative processes and visualisation • Exploring concept art and narrative in illustration • Visual culture & communication
In your second year (Level Five) you will develop:
• Innovation in illustration • Exploring and application of non-narrative illustration • Visual culture theory • Negotiated commercial application
In your third year (Level Six) you will produce:
• Project research and preparation • Dissertation/Report • Final Major Project • Final Show & Portfolio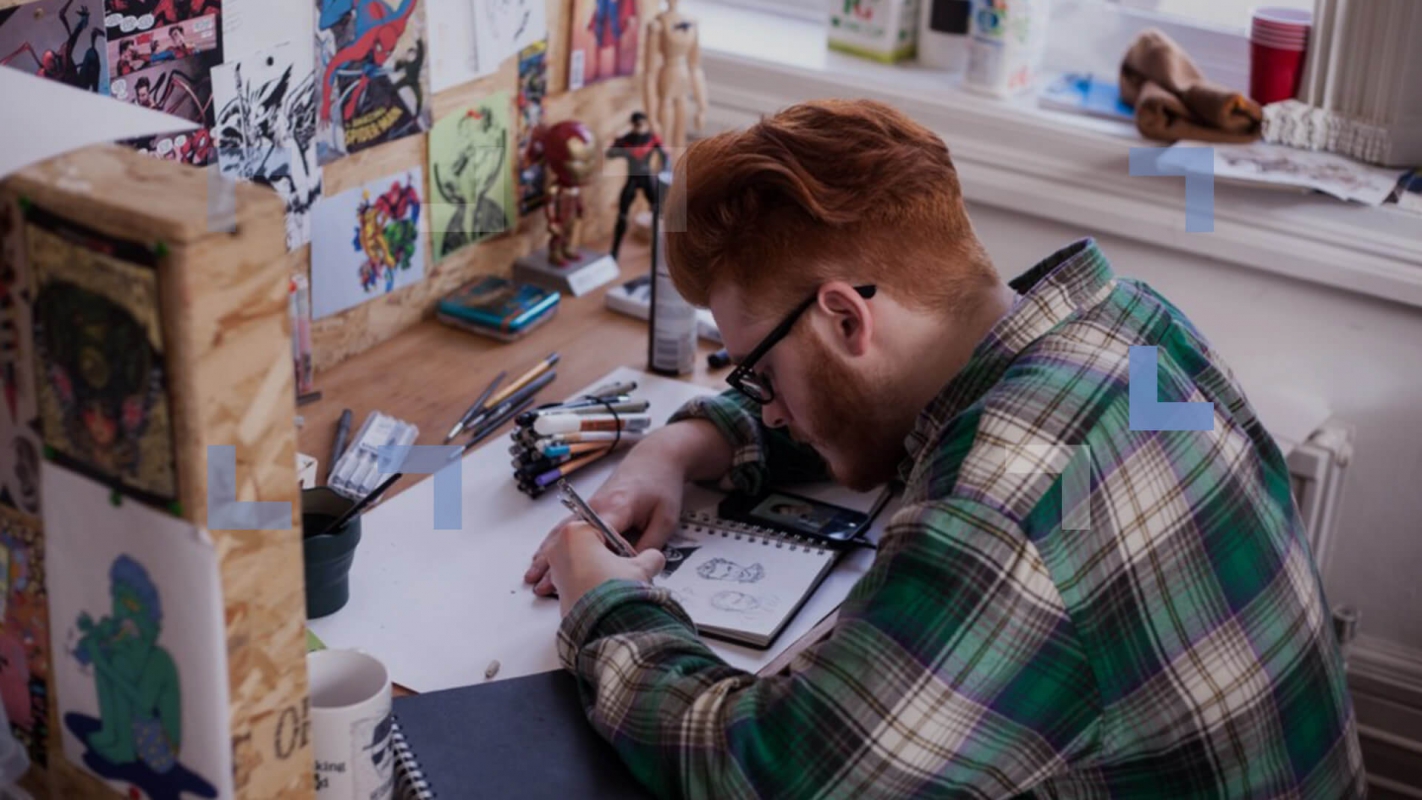 VISITING LECTURERS
OUR VISITING LECTURERS HAVE INCLUDED: Chris Riddell – Visting Fellow, Children's Laureate, Author, Illustrator God Machine – Illustrator Sam Arthur – MD, Nobrow Publishing Zara Pickin – Illustrator Drew Millward – Illustrator Dan Mumford – Illustrator Tom J Newell – Illustrator Craw – Artist / Illustrator Curtis Jobling – Illustrator Mr Millerchip – Illustrator Hunt Emmerson – Author / Illustrator Sara Ogilvie – Illustrator W.J Cadwell – Illustrator Lucy MacLeod – Illustrator
STAFF
NIEL BUSHNELL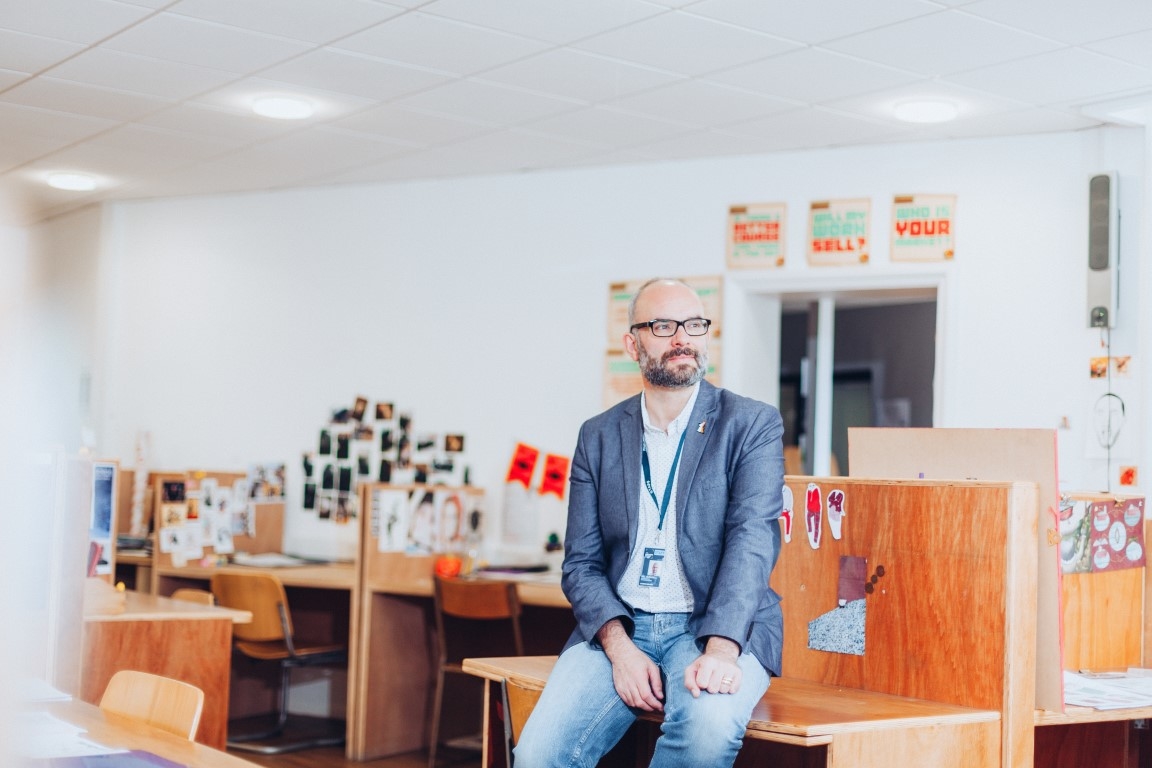 Programme Leader Niel is an established animator, illustrator and artist whose work has featured in Disney productions and Marvel Comics as well as numerous feature films and computer games. His career started at Marvel Comics before he moved into the animation industry where he worked on a broad range of projects from cereal commercials to feature films including Space Jam and Lost in Space. He then moved into the computer games industry as a concept artist, illustrator and animator on games including Shadowman and Harry Potter and the Philosopher's Stone. Niel's work for Disney included a Lion King short film called 'The Circle of Life: An Environmental Fable' which played at the Epcot Centre's The Land pavilion at the Walt Disney World Resort in Bay Lake, Florida, for over twenty years until it finally closed in 2018. After a stint in London, Niel returned to his native Hartlepool and formed his own studio, supervising a team of animators and artists, producing work for UK television shows such as Spooks, Hyperdrive, Mongrels, The Windsors and Derry Girls. More recently, Niel has been involved in the Doctor Who blu ray range, creating new animation, graphics and effects. When he's not drawing or animating, Niel enjoys writing and has had nine books published.
NIK HOLMES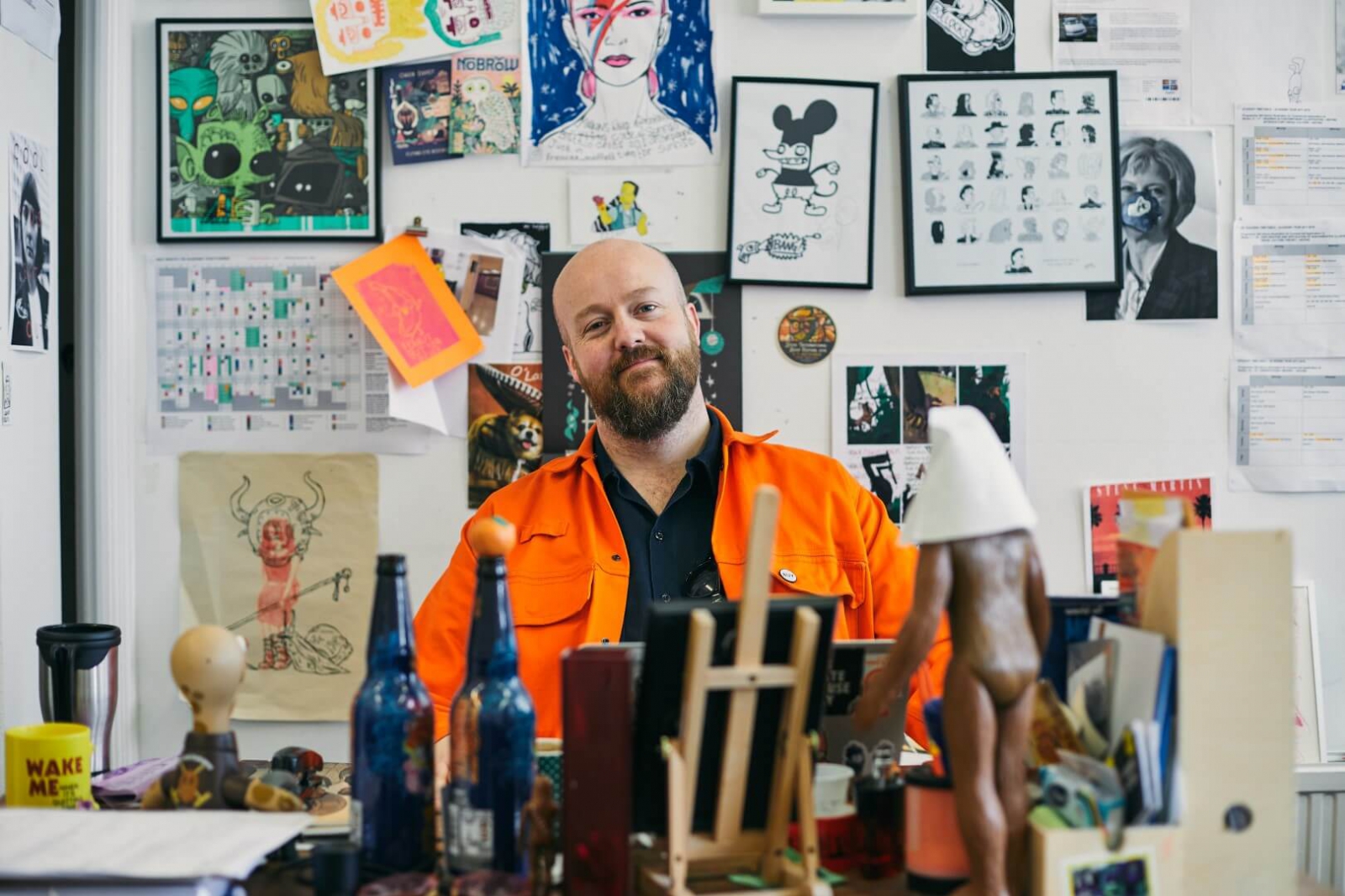 Lecturer After spending a year working in licensed products at a childrenswear design studio, Nik then spent 3 years as an in-house Illustrator, Graphic Designer and Art Director (Humour) at UK Greetings. With over 14 years freelance experience, for a wide range of clients including Paramount Pictures, BBC, Channel 4, Microsoft and Google among others, his experience as a commercial illustrator is exhaustive. He has worked on almost every aspect of commercial illustration, including fashion, concept art, children's books, editorial illustration, product design, comic books, greeting cards, branding, logo design, animation, advertising and tattoo design among others. As well as client-based work, Nik also works on private commissions and sells his work - both through online stores as well as at various film and comic conventions around the UK.
FRANCES MOFFATT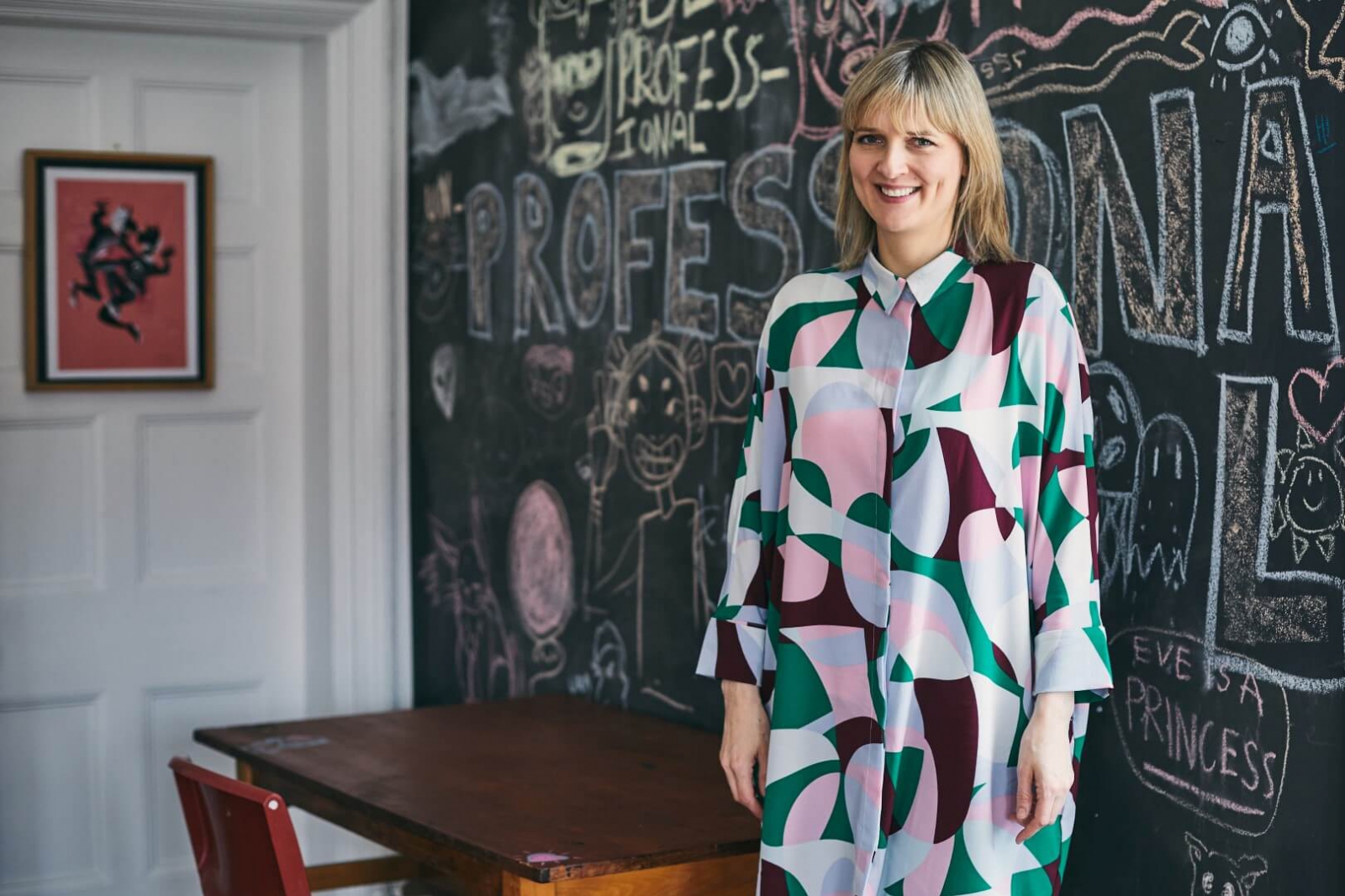 Lecturer Frances began her creative career as an Assistant Accessories Designer at high end womenswear brand Luella, before moving into illustration. She worked for The Bright Illustration Agency on a range of editorial, greetings and publishing commission for clients including Paperlink, Egmont Publishing and Michael O'Mara Books. Frances now combines lecturing with a successful freelance practice, illustrating the Fashion Exercise Book (2014) and Pick Up a Pen (2018) for Pavilion, a leading publisher specialising in illustrated books for the UK and international markets. She has produced live portraits for events across the country, and exhibited and sold work at the Baltic Self Publishing Artists' Market. Frances also exhibited at the Hartlepool Festival of Illustration in 2017, and curated the Fashion Illustration section.
ALICE HAIR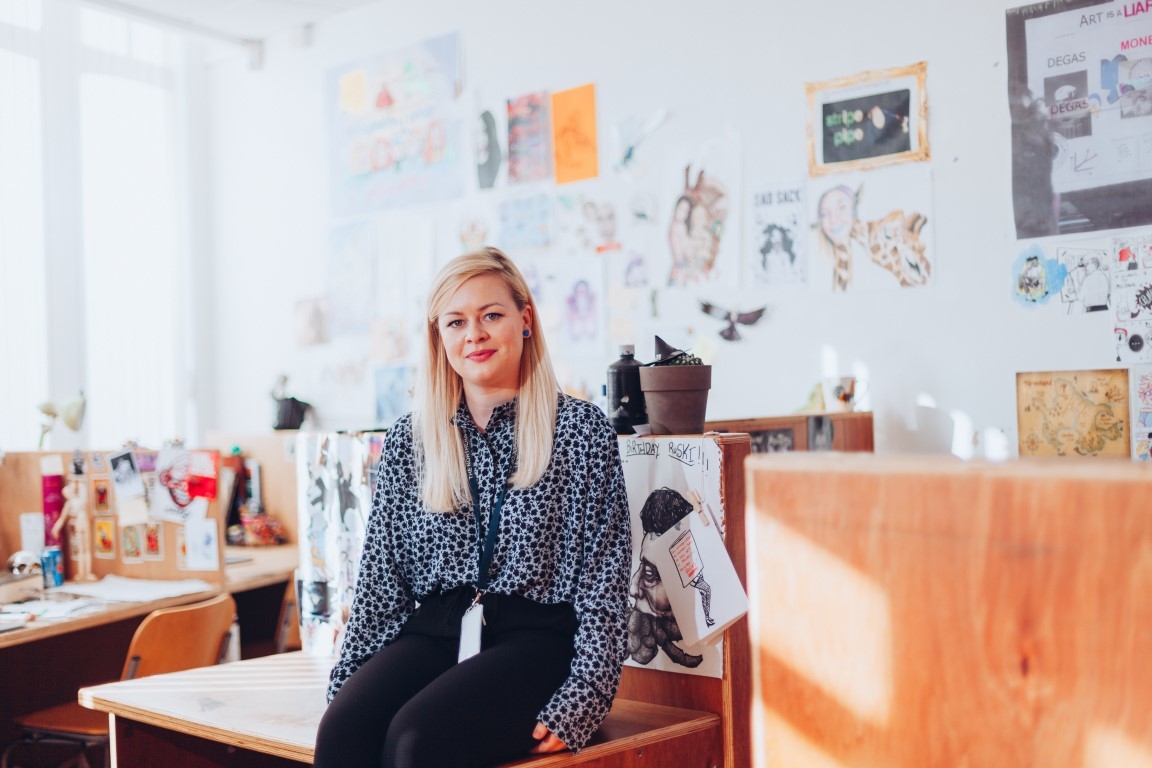 Lecturer Alice graduated from an MA in Illustration and Design in 2013 and since has worked in higher education whilst developing personal work for a range of regional exhibitions including; The Northern Festival of Illustration in 2019, Emanation at ThoughtFoundation 2018, Hamsterley: Unearthed 2018 in Hamsterley Forest, and the Drawing Parallels and Drawing the Line series at Gala Gallery and Holy Biscuit gallery. This has built a wealth of experience working with varied teams to plan and curate exhibitions. Alice has worked on a range of illustration commissions for clients such as Bernicia Festival, Lake Poets, Narc Magazine, The Customs House theatre, and Tiny Lights Recordings and Kittle PR. Alice continues to work on private illustration and design commissions alongside lecturing.
CAREER PATHS
This degree is for you if you wish to have a career in:
ADVERTISING ILLUSTRATION
BOOK ILLUSTRATION
EDITORIAL ILLUSTRATION
FASHION ILLUSTRATION
FREELANCE ILLUSTRATION
GREETINGS CARD ILLUSTRATION
PRODUCT ILLUSTRATION
NEWS