COURSE OVERVIEW

Duration: 2 Years Full-Time
Entry requirements: 4 GCSEs (9-4/A*-C) UCAS points Up to 168 (depending on grade outcome)
Campus: Middlesbrough

This course offers you the opportunity to discover how to communicate ideas and meanings in an expressive, inventive and very personal manner whilst at the same time exploring the varied career pathways offered by this discipline.

You will develop skills in experimentation with a wide range of materials, techniques and processes, generating ideas through visual and theoretical research and creative exploration. You will take a personal and highly rewarding journey, developing your individual style through a range of stimulating and thought-provoking assignments which are designed to extend your practical 2D & 3D skill base as well as critical understanding.
COURSE DETAILS
Tutors, who are all practicing Fine Artists, help you to explore the work of other practitioners as well as industry sector specialists to support your learning. The course offers opportunities to visit both local and international galleries and may include residential visits to locations such as Barcelona and Madrid. Fine Art study provides a wonderful exploratory experience and aims to direct you to career pathways that suit your individual talents and passions by creating a portfolio of diverse work to support your chosen progression. Successful completion of the course provides you with the qualifications and skills required to progress onto a range of degree courses or move directly into employment. Our students have developed fantastic careers in the industry, including: • Ashleigh Chinnock, fine artist • Cal Dyer, photographer • Connor Shields, sculptor • Daryl Watson, entrepreneur & tattoo artist • Francesca Jordan, make up artist, ITV • Gabrielle Dejorgio, gallery attendant, Baltic • Hope Stebbing, sculptor • Josh Bolam, freelance designer (including work for Burberry) • Oliver Perry, sculptor, Great North Run artwork • Rose McMurray, fine artist • Sam Blackwood, fine artist • Sam Golding, make up artist • Sammie Marshall, influencer We have a range of industry links, including Stockton International Riverside Festival (SIRF), Bowes Museum, WET Productions, Navigator North and fine artists and sculptors including Lois Harkin, Sam Blackwood, Robyn Fyfe and Oliver Perry.
ENTRY REQUIREMENTS
A MINIMUM OF FOUR GCSES AT C/4 OR ABOVE INCLUDING MATHS AND ENGLISH AT GRADE D/3, PLUS A PORTFOLIO OF WORK. (IF YOU HAVE MATHS/ENGLISH AT GRADE D/3 YOU WOULD BE REQUIRED TO WORK TOWARDS THESE QUALIFICATIONS ALONGSIDE YOUR COURSE)
MAXIMUM UCAS POINTS SCORE FOR FINAL GRADES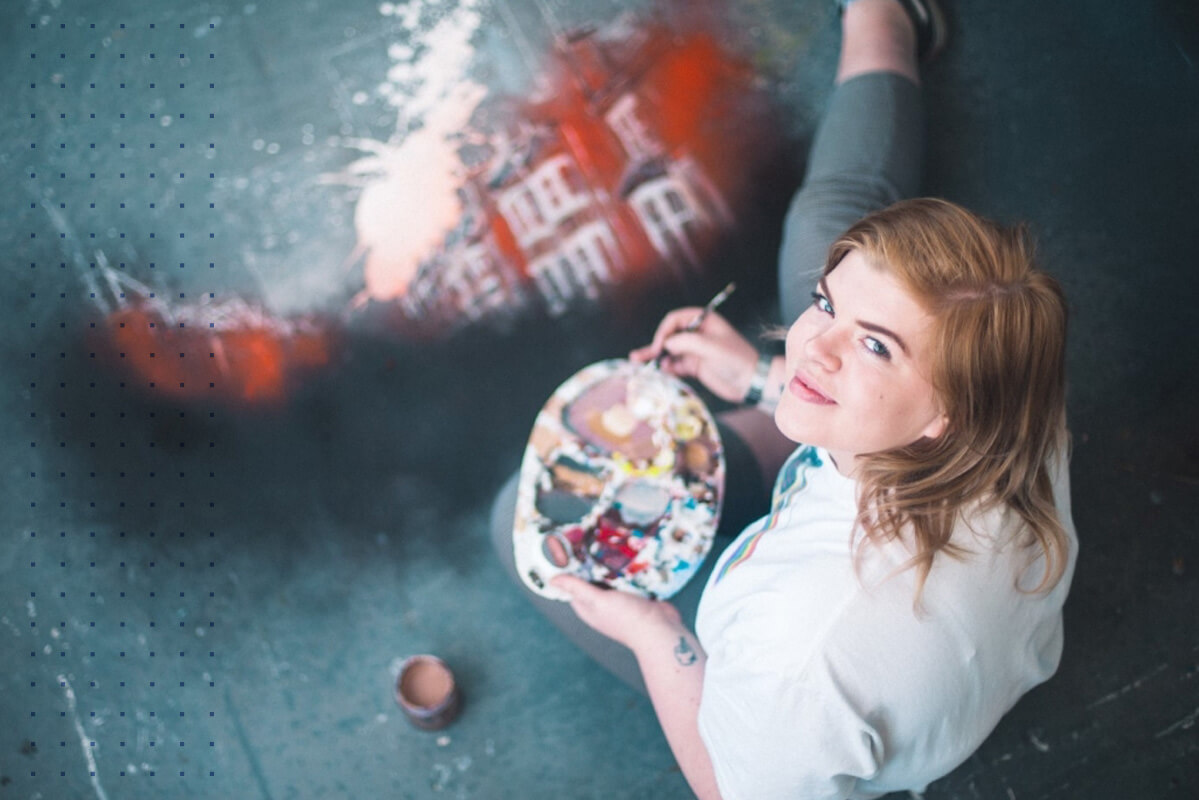 STUDENT PROFILE
JESS HALL What do you enjoy most about your course? How everyone feels welcome. Anything goes here. What's your favourite thing about The Northern School of Art? The atmosphere. It's not like any other college where there's just plain walls. Here, as you can see, there are things all over to inspire you. What are your next steps? I'm going to Camberwell in London to study Illustration. What do you enjoy most about your course? I didn't realise how much I'd change in style and how much I'd learn. There's so much you don't get taught in Art at school and if you want to be an industry professional, then I think this is the best option where you get taught at the age of 17 things that you wouldn't learn in the industry until you're really experienced.
COURSE NEWS